teaching
Tag
If you've been around this blog for  a while, you know every spring I go to an event called Bead Camp. It's actually the home of a very dear friend of mine, Angie Ramey. She organizes the event, books a teacher, sets up demos and we all come for a long weekend of sharing, learning, and most of all laughing. And it's held right there at her house, complete with a fabulous studio.
It is my must-not-miss event every year.
There are limited spaces and every year they fill up fast with the original participants, which means it's usually not open to new attendees because all of us old timers get first shot.
So why did I tell you about it here? Because Angie is opening her home to more beadmaking and metal retreats throughout the year.
You cannot go wrong with a retreat like this. Angie is by far the most organized person I know. She makes every event go off without a hitch. Plus she makes fabulous beads and metal goodies. And she loves to laugh.
And as a bonus? Vern–Angie's mom and business partner–will likely be there. Vern is just awesome. You're gonna have to go for a retreat to find out. So gather up your girlfriends and get ready for some learning. Trust me, you won't be disappointed.
When jewelry designers make beads and bead makers make jewelry. This weekend my friend Lisa of JoolzbyLisa came to visit. Mostly just for some R & R, but lots of girl talk and a trip into New Orleans. As part of our visit, Lisa taught me how to make a treasure bracelet. Wowza, those things take time. I must have spent at least a good eight hours working on mine. I am really pleased with how it came out though. Lisa is a good teacher. She also brought almost all of the supplies. We did make one emergency trip to Hobby Lobby for some larger seed beads and another to Walmart.  I didn't have a big enough needle.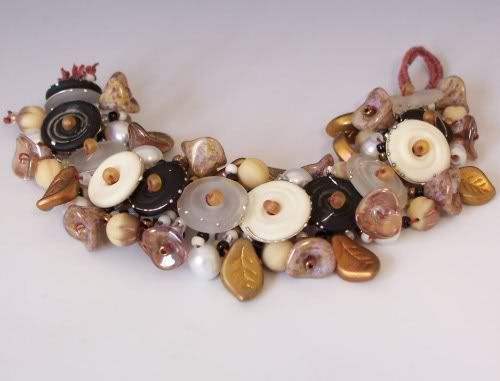 In return, I gave Lisa her second lampworking lesson. She had one last year at Bead Camp, where she made a few pairs of earring beads. So it has been over a year since she had her first lesson. This time she made a set of beads with silver. I instructed her on a technique shown to me by another friend Shawn of SetInGlass. I have already showed off Lisa's beautiful beads to my lampworking girlfriends. We all agree it's good she doesn't have her own torch, she'd be putting us to shame in no time. Ya'll will never have the opportunity to see the beads I made in my second torching session. They were U-G-L-Y, and I have long since tossed them into the abyss. Though Lisa are utterly gorgeous. Here is the proof:
I just heard from Blue Moon Glassworks in Austin, Texas.  Greg has a teaching gig set up there for the weekend of January 19th and 2oth.  It is a class for beginning marble making in soft glass.  It is  two day class and Greg and I will both be there.  I will be his lovely assistant.  Yes, I do know how to make marbles, but Greg is the expert.  So there will be two of us and the class is limited to eight students.  So hurry on over and sign up.  We can't wait to melt some glass with you!  The goal of the class is to get comfortable working off mandrel, learn how to make a marble round, finish it off and successfully get it in the kiln in one piece.  All students should be comfortable with making at least a one inch bead.  For more info contact Blue Moon.