metal smithing
Tag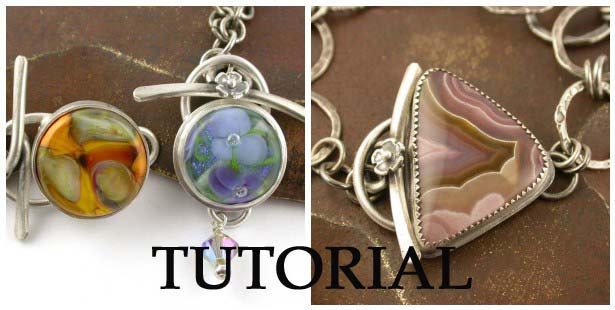 The wonderful Laura Pacino of Simply Adorning has a brand new tutorial out. It's labeled  Beginning Metals Fabrication-Bezeled Toggle Clasp.  I had the opportunity to preview this ebook and let me just say it's wonderful.
I've had very little experience with metal fabrication. I took a class six years ago, but due to time restraints I never made anything other than some disks at a friends house, which means I barely remember anything. Oh, I vaguely recall filing and sawing and pickling, but if I were to sit down and try to make something, disaster would ensue. But I didn't have any trouble following along with this tutorial. Laura even gives you part numbers for tools and materials so it's easy to find the items she is talking about. I love that! Especially since I am such a noob.
The tutorial is how to set a stone, but she also discuses tips and tricks for glass beads. See the picture on the left? The bead on the right is one of mine. Doesn't it look gorgeous? Laura makes everything look awesome.
Anyway, the tutorial is clear, the pictures are awesome, and since part numbers are listed, tools and supplies are easy to find. I'd say it's well worth the $25 price tag. Check it out!
If you've been around this blog for  a while, you know every spring I go to an event called Bead Camp. It's actually the home of a very dear friend of mine, Angie Ramey. She organizes the event, books a teacher, sets up demos and we all come for a long weekend of sharing, learning, and most of all laughing. And it's held right there at her house, complete with a fabulous studio.
It is my must-not-miss event every year.
There are limited spaces and every year they fill up fast with the original participants, which means it's usually not open to new attendees because all of us old timers get first shot.
So why did I tell you about it here? Because Angie is opening her home to more beadmaking and metal retreats throughout the year.
You cannot go wrong with a retreat like this. Angie is by far the most organized person I know. She makes every event go off without a hitch. Plus she makes fabulous beads and metal goodies. And she loves to laugh.
And as a bonus? Vern–Angie's mom and business partner–will likely be there. Vern is just awesome. You're gonna have to go for a retreat to find out. So gather up your girlfriends and get ready for some learning. Trust me, you won't be disappointed.