jewelry
Tag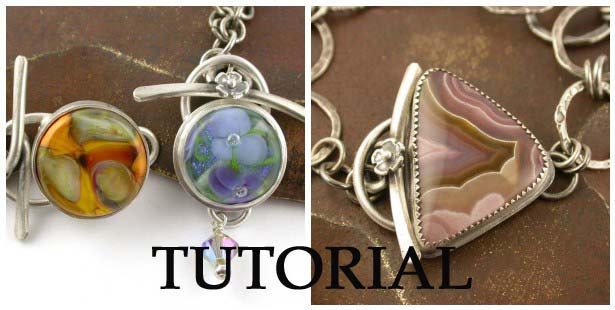 The wonderful Laura Pacino of Simply Adorning has a brand new tutorial out. It's labeled  Beginning Metals Fabrication-Bezeled Toggle Clasp.  I had the opportunity to preview this ebook and let me just say it's wonderful.
I've had very little experience with metal fabrication. I took a class six years ago, but due to time restraints I never made anything other than some disks at a friends house, which means I barely remember anything. Oh, I vaguely recall filing and sawing and pickling, but if I were to sit down and try to make something, disaster would ensue. But I didn't have any trouble following along with this tutorial. Laura even gives you part numbers for tools and materials so it's easy to find the items she is talking about. I love that! Especially since I am such a noob.
The tutorial is how to set a stone, but she also discuses tips and tricks for glass beads. See the picture on the left? The bead on the right is one of mine. Doesn't it look gorgeous? Laura makes everything look awesome.
Anyway, the tutorial is clear, the pictures are awesome, and since part numbers are listed, tools and supplies are easy to find. I'd say it's well worth the $25 price tag. Check it out!
Confession time. I'm a bead maker who rarely wears jewelry. I'm usually at home writing or in the studio making beads. It isn't an existence that lends itself to getting dressed up. Or getting dressed at all for that matter. I could spend all day in my jammies and no one would know.
So when it comes time to actually go somewhere, I almost always forget to add a piece of jewelry. Sure, I have pieces. I display them at shows, pull them out for my bead events, but on a daily basis? I often have to dig around in my purse for a bead to show a stranger what it is I do when the subject comes up.
But now I think that is all about to change. I have a customer, Laura of Simply Adorning, who does the most amazing things with my beads. Man-o-man does she make them look awesome! I never knew my beads could look so good.
This peacock pendant was the first piece I got from Laura. She made one and sent me a picture. I knew right them I had to have one.
Then I saw this in her store! I'm a bit of a sucker for a ring, but when I saw my floral bead set in there…wow, just wow. I love this ring.
But this is the piece I adore. Simply adorning indeed. Just gorgeous. How could I resist wearing this at every opportunity?
You can find variations of each of these pieces in Laura's Etsy store.
It's Bead So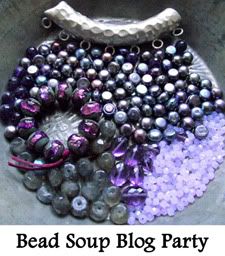 up time. The lovely Lori Anderson is the coordinator of the Bead Soup party. Click here to find a list of all the participating blogs.
Basically it works like this: All participating artists are matched up with another artist and we send a focal, a clasp and some coordinating beads off to our partners. Then we each make a piece of jewelry and blog about it on party day.
Today is party day! My partner, B.R. Kuhlman (be sure to stop by her blog to see what I sent her and what she did with my beads), sent me this jam-packed box of goodies:
The package included an amethyst focal, dyed mother of pearl, ear wires, lilac stone, amethyst beads, seed beads, crystals, and a silver plate clasp. There were a lot of goodies in my package. I admit to being a little overwhelmed with what to do with it all, but she sure left me with a lot of choices.
So without further ado, here is what I created. It's a little out of my norm, since there isn't any lampwork in it at all. I thought about adding some, but she gave me so much to work with, I wanted to devote this piece to just her beads.
Since my tastes run more simplistic, I do have a lot of stuff I didn't end up using, but it's not like they won't find their way into other things.
BR did the gorgeous wire-wrapping on the pendant, and I put everything else together.
So you tell me. How did I do?
Hello my dear jewelry designers. As most of you know I am not a jewelry designer. I rarely, if ever make any of my beads into jewelry. I will for my mom and so I can wear a piece of my own work, but It isn't something I get around to even when I think I want to. There are only so many hours in a day you know.
So I have decided to add a customers gallery page to my website. I have not gotten the page up, as I don't have any pictures yet. It will likely go right under my own gallery page. What I would like to do, is get photos from you, of pieces of jewelry you have made from my beads. I would then like to link that picture back to your website, etsy store, ebay store, or where ever it is you sell you work.
So go ahead and email me Deanna @ chase-designs.com with your photo, business name and where to link it to and I'll do the rest. :-)
When jewelry designers make beads and bead makers make jewelry. This weekend my friend Lisa of JoolzbyLisa came to visit. Mostly just for some R & R, but lots of girl talk and a trip into New Orleans. As part of our visit, Lisa taught me how to make a treasure bracelet. Wowza, those things take time. I must have spent at least a good eight hours working on mine. I am really pleased with how it came out though. Lisa is a good teacher. She also brought almost all of the supplies. We did make one emergency trip to Hobby Lobby for some larger seed beads and another to Walmart.  I didn't have a big enough needle.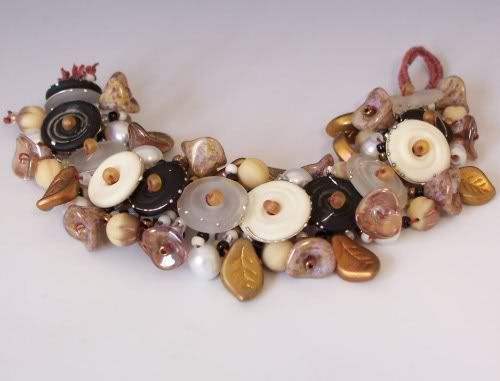 In return, I gave Lisa her second lampworking lesson. She had one last year at Bead Camp, where she made a few pairs of earring beads. So it has been over a year since she had her first lesson. This time she made a set of beads with silver. I instructed her on a technique shown to me by another friend Shawn of SetInGlass. I have already showed off Lisa's beautiful beads to my lampworking girlfriends. We all agree it's good she doesn't have her own torch, she'd be putting us to shame in no time. Ya'll will never have the opportunity to see the beads I made in my second torching session. They were U-G-L-Y, and I have long since tossed them into the abyss. Though Lisa are utterly gorgeous. Here is the proof: