writing
Category
You just know it is gonna be a good day when you get up and the first thing you do is harvest fresh blueberries right off the bush in your front yard. It's not a huge harvest, but enough to start me off on the right foot (and my parrot, who insisted on having one of her own).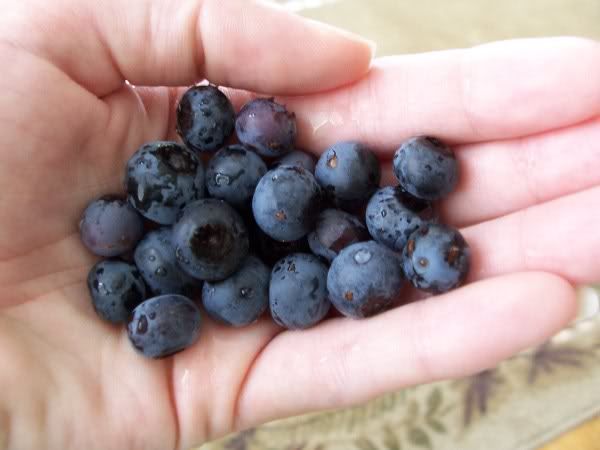 Combine that with the fact it is technically my day off and as soon as I go to the post office I am free until Sunday. Then add in the rock music blaring in my office and I am good to go. What will I do next? Trim my lantana bushes? Read the book I started two days ago (see I am being a responsible reader)? Write more of my great American novel? I'm not sure, but they all sound good to me. Have a fabulous weekend. I plan too.
A few days ago I blogged about paperbackswap.com.  I have become addicted.  I have been swapping books like crazy the last few weeks and I now have to put myself on restriction.  You see I have absolutely no self control what-so-ever once I have started a book.  I have to finish it.  I'll read all day and stay up all night if I have too.  Then to make matters worse, if it is a series book, which a lot of the ones I am reading right now are, I will start the next one right away.  Starting the cycle all over again.
What does this mean?  Well I have been spending a large amount of time reading, which means I have been sorta not working as much as I should.  Bad me.  However, my real problem is that I don't have great eye site.  Now my eyes are very tired and are not focusing very well.  I wear glasses for distance, so this isn't a blurry, I am not wearing my glasses while reading issue.  I don't need reading glasses.  I wish it were that simple.  I just plain am wearing my poor eyes out.  Or at least the one good eye anyway (I am almost blind in my left eye).  I fear I am straining the poor thing.  Add my countless hours of looking into the computer ( I have been writing a lot too) with the countless torch time hours, then add in two straight days of reading.  It doesn't add up to a great picture.  So I am off to rest my poor eye a bit, before I start staring in the computer screen again and then getting my torching done.
Too bad I can't find a hobby that rests my eyes….
I have seven books lined up waiting for me to read them.  I am feeling tortured.
Do you set goals for yourself? I do. Lots of them. Torching goals are four new things to list in various places 6 days a week. Going right along with that is getting those things listed, which means getting pictures edited and descriptions done. Exercise for thirty minutes at least five days a week. Write 1000 words a day on various writing projects. Blog at least three times a week. Spend at least one day a week out playing somewhere with Greg. Take a day for just me to do whatever I want. I am horrible at this one. Once Greg literally yelled at me when I was packaging up items to ship out on my day off, (which is Friday) cause I didn't want the customers who just paid to have to wait for Monday. Now, those who know us, probably have trouble seeing Greg yelling at me. :-) Now I always do ship on Fridays, but I usually do that first thing in the morning and later payments are suppose to wait until Monday. Ideally I should ship on Thursdays, but that is my big torching day. I get the kiln all to myself, no sharing with hubby, so I don't. Anyway you can see I have issues with taking a day off, even though I really want it.
The bad thing is I get upset with myself when I don't meet my goals. I have other ones too that deal with various marketing groups and other guest blogs as well. I do my best. The thing is, I keep adding more and more stuff for me to do, as if I don't have enough to do already. I am a full time lampworker, torching 5 days a week anywhere from 3 to 6 hours a day. Most often we are looking at around 5 hours. Then all the computer work with running the business. Greg does do his share. The lovely man cleans all my beads for me, even though he rarely makes any and he takes all the pictures.
So I am busy, with goals that I want to meet, try to meet and am serious about meeting them. I am nothing if not motivated, usually. My problem this week is the motivation has left the building. At least I am checking one thing off my list. Blog entry done, even if it is just rambling at it's worst. Cheers.
Recently by good friend Susan Sheehan blogged about something listening to her thoughts. Things she wanted to happen started happening all over the place. I believe the universe was listening.
I truly do think that if you put your intentions out there, that is where you will be lead. For instance, here is one of my own examples. I had always thought that it would be wonderful to have a job/career that I could do anywhere. So I could live anywhere I wanted. From a very young age I have wanted this and thought this. It stemmed really from wanting to live in a small mountain town, in Northern Ca. I still love the mountains in CA, however I know I just couldn't do cold snow for that long. Anyway I digress. I didn't know what the job would be or how it would come about, but it is here. I now have a job where I can live anywhere, thanks to the internet.
Another example. About 9 months before I quit my last "real" job, I was at a mangers meeting doing one of those "get to know each other" exercises. The question was posed, if you could do anything, anything at all, what would it be? My answer was to have the freedom to travel anywhere, all over the US for an unlimited amount of time. Three months later we bough the RV. Six months later I was unemployed, homeless and making my way to Maine for the summer. At the time I had no idea how that could be done, it was just something I put out there.
I think you get the gist. I think we should put our intentions "out there"….then listen carefully for when the universe answers us, so we don't let it pass us by. I could have easily let my chance to roam the US in the RV pass me by. It does sound crazy to sell your house and quit your job to go wondering around vagabondish. However, from that adventure I got to travel the US for 4 and 1/2 years and I ended up with a job that means I can live anywhere. Thank you Universe!
My next intention is to write a book and get published. I hope you are listening Universe…I know I am.
I hope you all had a fantastic Thanksgiving. Ours was quiet and nice. We have a fridge full of turkey, stuffing, and mashed potatoes. Not sure, who I thought I was cooking for, but more is always better on Thanksgiving right? We had a nice visit with Greg's mom. It's nice to spend that holiday with family.
Now we are back to work, or at least I am back to work. I apologize for lacking on keeping up with the blog. You remember the book I was writing? Was, is the operative word there. I literally burnt myself out on the writing and had to stop. Between working on beads and marbles and trying to write that much a day, my eyes we going haywire. Too much computer and too much torching. Some thing had to give, and I didn't want it to be my eye site. I very much enjoyed the writing and still plan to continue it, but not at that high pressure pace. It was too much, especially with the holidays here.
So speaking of Holidays, how is the shopping going? I haven't bought one thing or made one thing yet, but my list is coming together, so that is nice.
Speaking of marbles. I am back to making them and really am enjoying myself. Here is a poinsettia one on ebay: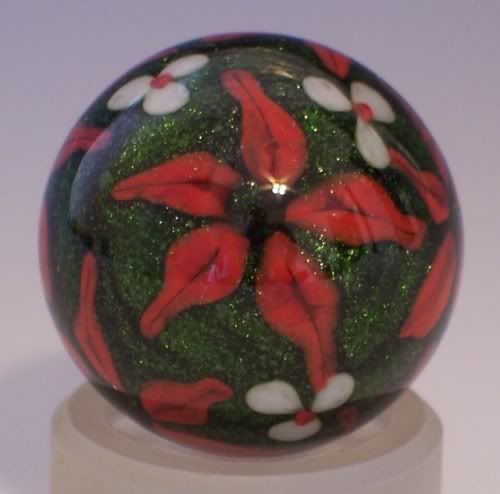 I have a ton of work to catch up on after the long weekend, so I am off to do it. Cheers!