writing
Category
Do you set yourself impossible goals? I do. Every damn day.
On one hand, I think it's great I have goals and I set them usually just out of my reach, so I'll keep pushing myself to get there. Then other days, like today, when I look around at all the things I was supposed to finish yesterday and didn't and all the things on my mental list today, all I want to do is cry.
But that's just silly. There isn't anything to cry about, other than feeling overwhelmed. Instead, I surfed around the internet and decided it was time to change my banner to match my book cover and spent thirty minutes working on that, instead of opening the current file that needs to be edited. BTW, let me just say I have used up my lifetime allotment of "she looked" or "she felt" in this one manuscript. Thank you Word for  the "find" feature.
This month is especially bad because I have a deadline to get this ms done and off to my editor. Plus, I have Bead and Button coming up at the beginning of June and I need to really get moving on stocking that table and to top it off I ran a sale in the Etsy store. Which was a huge success and I wouldn't dare dream of complaining about that. I'm thrilled. But it means, Bead and Button stock has taken a major back seat while I get the orders done.
So, my goals in addition to usual stuff- business emails, listings, shipping, working out, finding time to shower (especially important after work out), remember to eat, and pay attention to when the dogs need to go out- are:
Edit two chapters a day (until I open the first one and find out it is 5000 words and needs some serious revising and cutting).
Get at least three orders done and/or torch for at least four hours. And try to make something new to list…somewhere, Ebay Etsy, whatever (that hasn't happened in a week, so I relist stock I have hanging around).
Bead and Button hasn't gotten any attention for eight days.
So, how is this going? Well, I edited one chapter each on Saturday and Sunday and I haven't managed to fill three orders a day, though I did torch for fours hours each day.
I guess I always think I am going to get stuff done faster than I can actually do it. Impossible goals.
Okay, so it's Friday and I'm a day late. And my writing number over there to the right has been stagnate for over a week. You must be thinking, "What the heydo is she doing?" Well, the last few days were filled with book design stuff. I, along with my book designer Lisa Liddy at The Printed Page, have been brain storming and working on ideas and I am happy to announce I should have the book cover to show you sometime today or tomorrow. Woot!
As far as that writing number, I have spent the last week editing over 22,000 words. So I am getting it done, so to speak.
On to my weekly book of choice.
Adrain Phoenix
A Rush of Wings
Urban Fantasy
From the B&N Website:
"HIS NAME IS DANTE.
Dark. Talented. Beautiful. Star of the rock band Inferno. Rumored owner of the hot New Orleans nightspot Club Hell. Born of the Blood, then broken by an evil beyond imagination.
HIS PAST IS A MYSTERY.
F.B.I. Special Agent Heather Wallace has been tracking a sadistic serial murderer known as the Cross Country Killer, and the trail has led her to New Orleans, Club Hell, and Dante. But the dangerously attractive musician not only resists her investigation, he claims to be "nightkind": in other words, a vampire. Digging into his past for answers reveals little. A juvenile record a mile long. No social security number. No known birth date. In and out of foster homes for most of his life before being taken in by a man named Lucien DeNoir, who appears to guard mysteries of his own.
HIS FUTURE IS CHAOS.
What Heather does know about Dante is that something links him to the killer — and she's pretty sure that link makes him the CCK's next target. Heather must unravel the truth about this sensual, complicated, vulnerable young man — who, she begins to believe, may indeed be a vampire — in order to finally bring a killer to justice. But Dante's past holds a shocking, dangerous secret, and once it is revealed not even Heather will be able to protect him from his destiny…."
Rwar. Dante is a dark sexy vampire who speaks Cajun French and is a rock star. Nice right? He also has a dark past that when combined with his kindness, loyalty, and tender heart makes for a hero it's easy to root for. FBI agent Heather is a different kind of heroine. She's tough sure, but she is no nonsense and practical. It's interesting to watch her go through the process of accepting Dante and falling for him.
Adrain's tale is dark, twisted, and has plenty of plot, but the characters are what is most interesting. Plus it's set in New Orleans (you know I love that). I couldn't get enough. Not only that but Adrain has a beautiful writing style, I couldn't help but admire. If you like urban Fantasy or vampire novels this one is a must have.
It's official. I have secured an editor and a book designer for my paranormal romance, Haunted on Bourbon Street. My final draft will go to my editor in mid May. This means I am shooting for a July release date. A release date, that sounds so official. Squeal!
I am nervous and super excited at the same time. If you've paid attention at all to the publishing world you know things are changing and fast. With ereaders steadily rising in popularity, more and more people are moving to the ebook format. I myself got my NOOK in December and I'm pretty sure I've already bought more books this year than I did all of last year. It's so easy. Just turn it on and the whole book store is in my hands and I don't have to worry if the title is in stock. It's amazing.
With that in mind and the ability to publish to Amazon's Kindle format and Barnes & Noble's PubIt, it makes it so much easier for authors to get their work out there without waiting years to find an agent and/or a publisher. I don't have stars in my eyes over the recent Amanda Hocking news-the self-publishing phenomenon who made almost two million dollars in one year self-publishing. I know it's hard work and Amanda's story, while no doubt she worked very hard for her success, is not even remotely normal. Still, there is a future for self-published authors and I am no stranger to marketing my work or finding an audience. I've been doing it for ten years with the lampwork business.
So wish me luck on my newest endeavor. I'll be sure to let you know the exact release date and the status of the rest of the series. And for my bead followers, don't worry, you can still find me at my torch everyday.
P.s. For those of you without ereaders just yet, I will also be releasing a print version.
Edited to add this blog post by Joe Konrath:
http://jakonrath.blogspot.com/2011/04/are-you-dense.html
While I think his delivery is a little over the top, he touches on many of the reasons I decided to self-publish. That's not to say I'll ever rule out traditional publishing. A writer can do both and there are benefits both ways.
I almost gave you another urban fantasy today, but decided to change it up a bit.
Ally Carter
I'd Tell You I Love You, but Then I'd Have to Kill You
Young Adult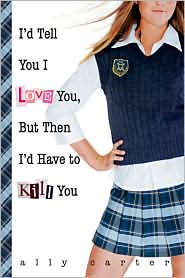 From the B&N website
"Cammie Morgan is a student at the Gallagher Academy for Exceptional Young Women, a fairly typical all-girls school—that is, if every school taught advanced martial arts in PE and the latest in chemical warfare in science, and students received extra credit for breaking CIA codes in computer class. The Gallagher Academy might claim to be a school for geniuses but it's really a school for spies.
Even though Cammie is fluent in fourteen languages and capable of killing a man in seven different ways, she has no idea what to do when she meets an ordinary boy who thinks she's an ordinary girl. Sure, she can tap his phone, hack into his computer, or track him through town with the skill of a real "pavement artist"—but can she maneuver a relationship with someone who can never know the truth about her?
Cammie Morgan may be an elite spy-in-training, but in her sophomore year, she's on her most dangerous mission—falling in love."
I'll admit this isn't the usual kind of book I'd read. I am a paranormal/urban fantasy kind of girl at heart. Obviously. Sure, I try other stuff when friends recommend it, but when left to my own devices you can bet I'm in one of those categories.
I ran across the Cammie Morgan series while frequenting Kristen Nelsen's blog (Ally's agent). For those of us aspiring to be published (at least traditionally), Kristen's blog is a must read). On a whim, I ordered the book when Kristen announced it had hit the New York Times best seller list. I finished it in one sitting and  was hooked. Although I admit I don't stalk Ally's website for publication dates like I do some my favorite Urban Fantasy authors, I have read and thoroughly enjoyed each book in the series.
Who doesn't want to read about girls in high school, training to be high level spies? These books are fun, easy reads and I wish they'd been around when I was a preteen. They would have been a nice contrast to the dozens of Sweet Valley High books I devoured.
This last month has taught me the importance of sticking to a routine. It all started with a post on Facebook about how to get motivated in the morning. See, I am not a morning person (my whole family is nodding emphatically at these words). Luckily, neither is my hubby, so we just ignore each other until we both wake up.
Anywho, my work schedule for the lampworking business is sort of flexible. I do computer work and shipping in the morning…er…early afternoon, and torch in the evening,usually starting around 5pm. This means I have all day to do my computer stuff and shipping. Sometimes it takes me an hour and other days I'm at it for five. It all depends on what is going on.
The problem started when I noticed I didn't have time for anything else. Like writing or working out. Or working on new and fun beads at the torch vs production. So with the advice of my know-it-all helpful friends, I started working out right after I woke up in the morning. My one friend said, "You'll be halfway done before you even know what's going on." She was right of course and I kind of hate her a little (J/K Susan, you know I heart you) because I really, really don't like climbing on the elliptical first thing. But afterward I feel great and get a jump on my day.
Since then I have also instilled a 1000 word count goal in writing and have managed to stick to it. No going to bed until those words are down and in nine days I managed to eek out over 10,000 words. I am elated. That's more than all of last month.
So for me, getting anything done, from working out to doing laundry, I need a routine, otherwise I am just a computer potato and end up wasting my whole day on facebook or twitter or lampworketc or etsy and ebay. Okay, you'll still find me in all of those places, but at least I'm also finding the time to get my stuff done.
Do you have a routine? What are you wishing you could get done but can't find the time?