teaching
Category
If you've been around this blog for  a while, you know every spring I go to an event called Bead Camp. It's actually the home of a very dear friend of mine, Angie Ramey. She organizes the event, books a teacher, sets up demos and we all come for a long weekend of sharing, learning, and most of all laughing. And it's held right there at her house, complete with a fabulous studio.
It is my must-not-miss event every year.
There are limited spaces and every year they fill up fast with the original participants, which means it's usually not open to new attendees because all of us old timers get first shot.
So why did I tell you about it here? Because Angie is opening her home to more beadmaking and metal retreats throughout the year.
You cannot go wrong with a retreat like this. Angie is by far the most organized person I know. She makes every event go off without a hitch. Plus she makes fabulous beads and metal goodies. And she loves to laugh.
And as a bonus? Vern–Angie's mom and business partner–will likely be there. Vern is just awesome. You're gonna have to go for a retreat to find out. So gather up your girlfriends and get ready for some learning. Trust me, you won't be disappointed.
I always have a difficult time explaining what I do to strangers. If I were to say, "I am a lampworker," I am most likely rewarded with a confused or blank stare. Flameworker and torchworker gets pretty much the same response. If I say, I make glass beads, that doesn't really cover it either. It gets closer, but the world at large is highly uneducated about this particular craft. So my latest explanation goes something like this: "I work with hot glass on a torch, making glass beads, mostly for jewelry designers."
The usual response is along the lines of "Oh, you are a glass blower?"
Me: "The same idea, but we are not actually blowing glass (usually), we are making solid pieces on a much smaller scale, using a torch instead of a furnace."
Then there are the other people. Those who are somewhat familiar with lampwork, but not beads or marbles. The latest encounter I had was just the other day. My car broke down and I had to call the tow company to get it to the shop. It was a 100 degree day and even though my house was less than a mile from the breakdown spot, the driver decided to take pity on me and give me lift. On the way we chatted about what I did for a living.
Me: "I work in glass, making beads and marbles."
Him: "Oh, like those people on that HBO reality tv show that make glass sex toys?"
Me: "HBO has a reality TV show about sex toys?" I don't have HBO and I never heard of that. Where have I been?
Him: "Oh ya, and they do VERY well, the owners have a yacht and host all kinds of parties promoting their toys."
Me: "Really? huh. Ya, kinda like that but we don't make sex toys. Though I know a few people who do."
Him: "Ya, they go on and on about how they are the toys of choice and very durable, never wear out."
Me: "Good to know."
Now I am thinking, yachts? I could make sex toys, if I switched the glass I use. I even have a big enough torch. I can just see it. Someone asks my mom or dad how their daughter, the glass artist is doing. Answer, "Oh Deanna, she is very successful, you know she makes sex toys now." Maybe not. (Not that there is anything wrong with that.)
How about the time we pulled the rv into a campground in Colorado Springs? We got into a conversation about what we did for a living while checking in for our month long stay.
Us, with the usual: "We make glass beads and marbles on a torch."
Him: "Oh, do you make bowls? I have a friend who does."
Us: "Oh a few times with our fusing kiln, but that isn't what we normally make."
Him: "I'd love to see them. There is a huge market for bowls and spoons around here."
Us, now we get it: "Oh, we don't make pipes. Just beads and marbles." We have actually made a few bowls, as in a candy dish type bowl.
Him: "Oh, too bad."
Then there was the time we traveled up to Victoria, Canada from the Olympic Peninsula. Getting through customs was kinda tricky.
Customs: "Why are you here?"
Us: "To visit friends."
Customs: "How long?"
Us: "Overnight."
Customs reading our Texas licence plate: "You're a long way from home."
Us: "Not really, we live in an RV and it is parked in Washington."
Customs: "You live in an RV?"
Us: Nodding
Customs: "Occupation?"
Us: "Glass artists."
Customs: "Self employeed?"
Us: "Yes."
Customs: "Did you bring any work with you?"
Us: "Yes."
Customs: "Pipes?"
Us: "No, we make beads and marbles."
Customs: "Do you plan to sell any work here."
Us: "No, just to show to our friends." Which was true.
Customs: "Do you own a home in the states?"
Us: "No."
Customs: "Any ties at all to anything in the states?"
Us, finally getting the picture. "Oh ya, family."
Customs: "Okay. Pull over to the side please."
We did and waited an hour and half while the inspectors went over the VW bus with a fine tooth comb and ran background checks on us. The agent asked to see our work, then kept asking where the pipes were. I swear he asked Greg four times. I admit, we probably looked questionable with the 71 VW bus, both of us having long hair, and the fact we were vagabond glass artists. Finally we were cleared and drove off, laughing our butts off. A sense of humor is a good thing.
So why is it called lampworking you might ask. The answer, back before they days of mixed surface oxygen torches, bead makers made beads on oil lamps, using glass that was soft enough to melt in those low temperature flames. So now you know. :-)
When jewelry designers make beads and bead makers make jewelry. This weekend my friend Lisa of JoolzbyLisa came to visit. Mostly just for some R & R, but lots of girl talk and a trip into New Orleans. As part of our visit, Lisa taught me how to make a treasure bracelet. Wowza, those things take time. I must have spent at least a good eight hours working on mine. I am really pleased with how it came out though. Lisa is a good teacher. She also brought almost all of the supplies. We did make one emergency trip to Hobby Lobby for some larger seed beads and another to Walmart.  I didn't have a big enough needle.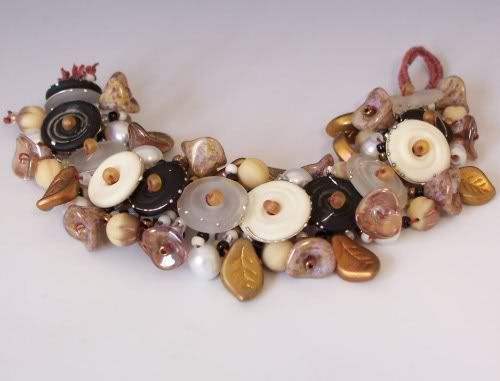 In return, I gave Lisa her second lampworking lesson. She had one last year at Bead Camp, where she made a few pairs of earring beads. So it has been over a year since she had her first lesson. This time she made a set of beads with silver. I instructed her on a technique shown to me by another friend Shawn of SetInGlass. I have already showed off Lisa's beautiful beads to my lampworking girlfriends. We all agree it's good she doesn't have her own torch, she'd be putting us to shame in no time. Ya'll will never have the opportunity to see the beads I made in my second torching session. They were U-G-L-Y, and I have long since tossed them into the abyss. Though Lisa are utterly gorgeous. Here is the proof:
I just heard from Blue Moon Glassworks in Austin, Texas.  Greg has a teaching gig set up there for the weekend of January 19th and 2oth.  It is a class for beginning marble making in soft glass.  It is  two day class and Greg and I will both be there.  I will be his lovely assistant.  Yes, I do know how to make marbles, but Greg is the expert.  So there will be two of us and the class is limited to eight students.  So hurry on over and sign up.  We can't wait to melt some glass with you!  The goal of the class is to get comfortable working off mandrel, learn how to make a marble round, finish it off and successfully get it in the kiln in one piece.  All students should be comfortable with making at least a one inch bead.  For more info contact Blue Moon.