RV
Category
I always have a difficult time explaining what I do to strangers. If I were to say, "I am a lampworker," I am most likely rewarded with a confused or blank stare. Flameworker and torchworker gets pretty much the same response. If I say, I make glass beads, that doesn't really cover it either. It gets closer, but the world at large is highly uneducated about this particular craft. So my latest explanation goes something like this: "I work with hot glass on a torch, making glass beads, mostly for jewelry designers."
The usual response is along the lines of "Oh, you are a glass blower?"
Me: "The same idea, but we are not actually blowing glass (usually), we are making solid pieces on a much smaller scale, using a torch instead of a furnace."
Then there are the other people. Those who are somewhat familiar with lampwork, but not beads or marbles. The latest encounter I had was just the other day. My car broke down and I had to call the tow company to get it to the shop. It was a 100 degree day and even though my house was less than a mile from the breakdown spot, the driver decided to take pity on me and give me lift. On the way we chatted about what I did for a living.
Me: "I work in glass, making beads and marbles."
Him: "Oh, like those people on that HBO reality tv show that make glass sex toys?"
Me: "HBO has a reality TV show about sex toys?" I don't have HBO and I never heard of that. Where have I been?
Him: "Oh ya, and they do VERY well, the owners have a yacht and host all kinds of parties promoting their toys."
Me: "Really? huh. Ya, kinda like that but we don't make sex toys. Though I know a few people who do."
Him: "Ya, they go on and on about how they are the toys of choice and very durable, never wear out."
Me: "Good to know."
Now I am thinking, yachts? I could make sex toys, if I switched the glass I use. I even have a big enough torch. I can just see it. Someone asks my mom or dad how their daughter, the glass artist is doing. Answer, "Oh Deanna, she is very successful, you know she makes sex toys now." Maybe not. (Not that there is anything wrong with that.)
How about the time we pulled the rv into a campground in Colorado Springs? We got into a conversation about what we did for a living while checking in for our month long stay.
Us, with the usual: "We make glass beads and marbles on a torch."
Him: "Oh, do you make bowls? I have a friend who does."
Us: "Oh a few times with our fusing kiln, but that isn't what we normally make."
Him: "I'd love to see them. There is a huge market for bowls and spoons around here."
Us, now we get it: "Oh, we don't make pipes. Just beads and marbles." We have actually made a few bowls, as in a candy dish type bowl.
Him: "Oh, too bad."
Then there was the time we traveled up to Victoria, Canada from the Olympic Peninsula. Getting through customs was kinda tricky.
Customs: "Why are you here?"
Us: "To visit friends."
Customs: "How long?"
Us: "Overnight."
Customs reading our Texas licence plate: "You're a long way from home."
Us: "Not really, we live in an RV and it is parked in Washington."
Customs: "You live in an RV?"
Us: Nodding
Customs: "Occupation?"
Us: "Glass artists."
Customs: "Self employeed?"
Us: "Yes."
Customs: "Did you bring any work with you?"
Us: "Yes."
Customs: "Pipes?"
Us: "No, we make beads and marbles."
Customs: "Do you plan to sell any work here."
Us: "No, just to show to our friends." Which was true.
Customs: "Do you own a home in the states?"
Us: "No."
Customs: "Any ties at all to anything in the states?"
Us, finally getting the picture. "Oh ya, family."
Customs: "Okay. Pull over to the side please."
We did and waited an hour and half while the inspectors went over the VW bus with a fine tooth comb and ran background checks on us. The agent asked to see our work, then kept asking where the pipes were. I swear he asked Greg four times. I admit, we probably looked questionable with the 71 VW bus, both of us having long hair, and the fact we were vagabond glass artists. Finally we were cleared and drove off, laughing our butts off. A sense of humor is a good thing.
So why is it called lampworking you might ask. The answer, back before they days of mixed surface oxygen torches, bead makers made beads on oil lamps, using glass that was soft enough to melt in those low temperature flames. So now you know. :-)
Recently by good friend Susan Sheehan blogged about something listening to her thoughts. Things she wanted to happen started happening all over the place. I believe the universe was listening.
I truly do think that if you put your intentions out there, that is where you will be lead. For instance, here is one of my own examples. I had always thought that it would be wonderful to have a job/career that I could do anywhere. So I could live anywhere I wanted. From a very young age I have wanted this and thought this. It stemmed really from wanting to live in a small mountain town, in Northern Ca. I still love the mountains in CA, however I know I just couldn't do cold snow for that long. Anyway I digress. I didn't know what the job would be or how it would come about, but it is here. I now have a job where I can live anywhere, thanks to the internet.
Another example. About 9 months before I quit my last "real" job, I was at a mangers meeting doing one of those "get to know each other" exercises. The question was posed, if you could do anything, anything at all, what would it be? My answer was to have the freedom to travel anywhere, all over the US for an unlimited amount of time. Three months later we bough the RV. Six months later I was unemployed, homeless and making my way to Maine for the summer. At the time I had no idea how that could be done, it was just something I put out there.
I think you get the gist. I think we should put our intentions "out there"….then listen carefully for when the universe answers us, so we don't let it pass us by. I could have easily let my chance to roam the US in the RV pass me by. It does sound crazy to sell your house and quit your job to go wondering around vagabondish. However, from that adventure I got to travel the US for 4 and 1/2 years and I ended up with a job that means I can live anywhere. Thank you Universe!
My next intention is to write a book and get published. I hope you are listening Universe…I know I am.
Every since the first time Greg and I went to New Orleans in 2003, the culture and vibe started to sink in. We found ourselves drawn to the place and anytime we were close (you know close is within 600 miles) we made it a point to stop and spend time here. We visited four times in our travels back and forth across the country, which is saying something since we rarely went anywhere twice, always on the hunt for the next adventure.
When we found ourselves always thinking about coming back, stalking real estate on the internet and in general dreaming of the place, we knew it was time. While we would love to live in the city, dream of living living there, it just wasn't practical for our situation. First off we wanted to keep the rv (which we are now trying to sell ironically), however keeping it and having a place in NoLa wouldn't work if we wanted to store it on our property. That is like saying you have a place in New York City or San Francisco and keep your rv with you. Not really doable.
Then there was the whole financial aspect. Wanting a lampwork studio and and office and a guest room meant more and more money to own a place and renting with a torching studio can be difficult at best. Plus the whole property insurance thing down there, ouch! We found ourslelves looking outside of the city. Which is where we found our pretty little cottage in a quiet town, on the north shore. We do love it, but still dream of New Orleans. However, it is close enough to go in whenever we want. Best of both worlds in our eyes.
Still NoLa's culture, architecture, and it's vibe have stolen a place in our hearts. Which brings me to Greg's newest marble:
Garden District NoLa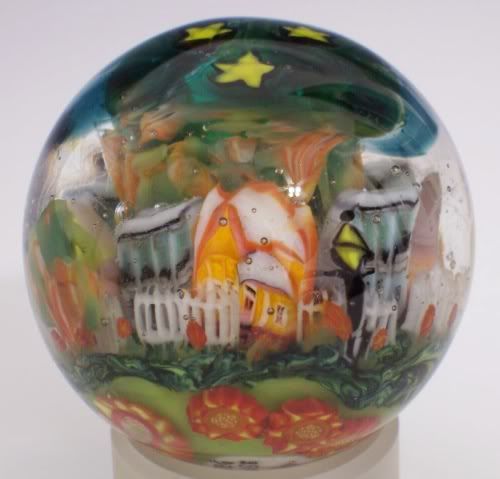 The ideas for the marble have been roaming around in Greg's head for about a year now. Finally it morphed into his vision. Stay tuned for the upcoming French Quarter marble. :-)
Really, I ask you: When did I become such a snob? Greg and I have had a running joke for a few years now that we are food snobs, wine snobs, beer snobs, tequila snobs and now it appears art snobs. I am sure I can find more snobbiness if I try, but I will leave it at that for now.
It's no secret among friends about our food and drink snobbiness. Last month I was visiting a friend. Before I got there she went shopping for beer for pizza night. She did not know what kind of beer to get, so she went to the store with the most options and stared at the beer. A few moments later a man in his thirties comes along and joins her staring at the choices. My friend turns to him and explains she has a beer snob coming to visit, does he have any recommendations. He appears to think for a moment, then reaches down grabs a six pack of Bud and says "Nope." and walks off. LOL. She did okay though. I don't remember what she got, but it was good enough to drink.
As far as wine goes, maybe it is because we grew up close to the Napa Valley. I don't know, but I just can't do a cheap bottle of wine. I know people who drink that wine in a box stuff, and say they LIKE it. Really? You are kidding me right? What about Boones wine? I remember drinking that at high school parties. (Sorry mom and dad). It wasn't good then either. Now, I know you are thinking, those are terrible wines. Yes they are. You are right. Still anything less that about a $10 bottle of wine and I am not interested. See told you, I am a snob. It's not about the price, don't get me wrong, it's just I haven't found one under $10 I'd happily drink.
Tequila? Well, lets just say Jose is not in my vocabulary and if we invite you over for margaritas, there is no blender involved and likely the name on the bottle is one you cannot pronounce. 100% agave baby or nothing.
Then there is food. I am such a major food snob. I like fresh fresh fresh food. I cannot eat fast food, bleck. Don't even ask me to stop at any of those places. Subway is about as fast food as I get, even then that is a last resort. I like delis, with all the fresh trimmings and fancy cheeses. I don't even eat deli meat much, maybe a bit of turkey. I will only eat seafood if it is fresh. Usually that means I need to be near the coast to eat it. I use to really like Red Lobster, but since traveling around the US and having opportunities to eat really fresh seafood, Red Lobster is now only an "if I have to" kind of place. Good thing we live near the Gulf Coast. I love fresh seafood.
We recently just learned what art snobs we really are. As many of you know we recently moved into a house here in Louisiana. We literally had no furniture and nothing to decorated it with, after living in the rv for so long. So we are slowing buying furniture and we really need something for these walls. 12 foot ceilings, with nothing on the walls looks pretty barren. So we have been art shopping. I would love to have some original art of the walls. So we went looking, in New Orleans of course. To be honest, the prices are not terrible in some of the galleries down there, but still way out of our price range. We makes beads and marbles for a living, it's not like we are rolling in extra dough.
So our next thought was, we will just get some prints for the walls. So we started looking. Nicely framed prints run anywhere from $100 to $300. I just cannot bring myself to spend that kind of money on what is essentially just a poster, when I can get the real thing for $300 to $500. So we didn't get anything and realized we are snobs. No prints or poster for this girl, she wants the real McCoy.
So what am I to do? Well, shop ebay of course. Have you ever really looked at the self representing artists on ebay? I hadn't, until now. I can see the appeal for artists selling there. No gallery charges. Just straight to the public. The artist gets to find out right away what sells well, no waiting months for a piece to sell and then waiting for a commission check. But best of all, I found I might actually be able to afford some original paintings. We just bought one on ebay and I am stalking a few others. Here is the one we got. It looks fantastic in my living room.
So today is two months exactly since we moved into our house.  It doesn't feel like two months at all.  Time has just flown by.  We were wondering how we were going to adjust to living stationary, when we had been traveling in the RV for over four years.  You'd think it would be quite an adjustment right?  Hardly seems so.
Greg says I am happier than I have been in a while.  I was getting so tired of being cooped up in the RV.   Don't get me wrong.  I love that we spent that much time on the road.  We met so many wonderful people and saw so many places we had never seen.  Gotten to know the sub cultures of America.  It was awesome!  However, we found ourselves working six days a week at the torch (which we still do, we love that too), and not sight seeing as much or doing as much.  It got to be confining.  If we were just traveling about and exploring, that life would still be awesome.
I just love having a house to ramble around in.  Our pets seem happier too.  Especially our bird.  We have a 12 year old, almost 13, Gold Capped Conure.  Miniature type parrot, for those of you lacking in bird knowledge.  Anyway, she use to have to stay in her cage while we worked all day.  Not good to have the bird free while open flame was happening.  So now she gets to hang out with me all day, while I do computer work, and with Greg at night watching the tube, while I torch.   She is quite happy.  The dog would be happier if we got carpet, but she is pleased as well.  Plenty of places for her to sleep.  She changes rooms every few hours.
All in all, we are quite happy and have not seen much of the cabin fever set in.  Is it because we are doing work to the house to fix it up and that keeps us busy?  Maybe it is because we are still getting to know this area and find new stuff all the time?  Maybe it's our happy flowers out front, that we planted?  Maybe we are just nesting.  My goodness, I even wished for a sewing machine today.  Now that is a crazy thought!
I can't wait for visitors to start coming.  So far we have three lined up in the next two months.  We are excited to show off our place.  :-)