random thoughts
Category
I've been self-publishing my novels for just over a year now. My anniversary was July 29th. Book three, Demons of Bourbon Street, comes out in a week or so and Influential Magic (the first of a new series) will be coming out late November or early December. My journey has been filled with challenges, triumphs, and a lot of support. Over the last year, I've only had one person give me the obvious pitying look when I say I'm self-published. Everyone else thinks it's awesome I'm following my dreams. If not, they've been kind enough to keep their opinions to themselves.
I've seen the negative tone of self-publishing online, but mostly it comes from people entrenched in traditional publishing.  I get it. Change is here. And that makes people uncomfortable. Since I don't know a lot of people in traditional publishing (those I do know have embraced self-publishing), I've been shielded from the negativity.
When I read that my fellow authors are experiencing such negativity from friends and family, I'm shocked. Really? Really!? These are people who love you. They should be supporting you. I can't tell you how mad that makes me. Writer friends, I'm here for you always. I'll be your biggest cheerleader. Promise.
I know I live in a creative bubble. Being a glass artist, most of my friends are also glass artists. Many of them are entrepreneurs themselves.  And my family? I suppose my life is already kooky enough they are no longer surprised by the paths I walk. When I was twenty-nine, hubby and I  quit our corporate jobs, sold our house, and moved into an RV to work our way across the country at RV parks. Two years later, I became a full-time artist after having never shown much interest or talent in any art form before. Self-publishing must be tame by comparison.  Maybe I've conditioned them. :D
But the point is, not one of them has told me I'm wasting my time or stupid for writing and self-publishing. Not one. Even when my friends read my first drafts that were filled with plot holes, passive writing, and atrocious typos and grammar, did they ever do anything other than encourage and support me.
I've got a confession to make. Even with all that love and support, I still feel the stigma of self-publishing. Maybe it's because when I started my writing journey I was told over and over by the industry, "Do not self-publish." It was the fastest way to harpoon any sort of writing career. Maybe it's because I've read a number of traditionally published authors bash the self-publishing movement. Maybe I don't want anyone popping my happy bubble. So when I went to my first local writers' group this last weekend, I was scared to tell anyone I'm a self-publisher. I sat quietly, listened to the meeting, chatted with my neighbor, gave my opinion about the importance of using Twitter and Facebook, and then quietly slipped out when the meeting was over. They were a good group. I liked them. Still, I wasn't ready to confess my sin.
I'm a self-published author.
And to date, I've sold over 30,000 copies of my two books, Haunted on Bourbon Street and Witches of Bourbon Street.
It's funny. In my daily life, I'm proud of what I've accomplished. I've learned a lot. I never hesitate to give anyone who asks my opinion of the industry. I answer emails and threads about business questions as honestly as possible, often giving real numbers. Yet, put me in a room full of authors I don't know, many of them traditionally published, and I become a wallflower.
I hope to remedy that at the next meeting. I've accomplished something  pretty amazing, I think. Am I a NYT bestseller? No, not yet. But my books are regularly on the top 100 genre  lists on Amazon, and that's nothing to sneeze at. Next meeting, insecure self-publisher girl is staying home and proud author is going in her place.
Happy Halloween!
Last night our town celebrated Halloween. They always schedule it on a weekend night no matter when Halloween falls. Last year they caught us unaware and we didn't have any candy for the kids everyone buses in (no joke). We live across the street from a school and the families from all over our mostly rural town come walk the few blocks around our house for their trick or treating pleasure.
So about six p.m. the dogs started to go insane and I sent G out front to hand out the gazillion little packages of Rolos, Twix, Heath Bars, M&Ms, Reeses, Three Musketeers, Milk Duds, and whatever else was hiding in that giant bucket. Forty minutes later he was back inside shutting off the lights and closing the blinds. Holy crap that was a lot of candy in a short amount of time. One piece each.
Little zombies cleaned us out. Poor G. Out of Halloween candy already and it isn't even Halloween yet. He might deserve it though. He told me one of the kids asked if our house was haunted. Umm, yes. Haven't I been saying that for months now?
But G quickly told him no, and the kid turned to a friend and said, "See I told you it wasn't haunted!".
And friend responded, "That's what so and so said!"
If I'd been out there I would have said, "Oh yeah. Have you seen our ghost? He likes to come out at night." Then I would have asked what rumors they'd heard and who they thought our ghost could be.
Seems our house has become the creepy one all the kids talk about. I don't know why. It's super cute, and we have adorable dogs that like to sit in the window. But as long as the kids don't start breaking in and holding séances, it's cool with me. Y'all know how much I like ghosts. Especially ones that like to invade dreams. :D
Every single time I open the fridge, I see those evil horrid boxes of Cadbury Caramel Eggs. Damn those after Easter sales. I think hubby said they were half off so he bought two boxes and there they sit, right in the door of the fridge, taunting me.
This isn't a post about willpower. You see, refined sugar is one of my migraine triggers. If I were to actually eat one of those things, it might actually mean my death by chocolate.  I would certainly be laid out for at least three days and ready to off myself.
The funny thing is, dessert, chocolate, ice cream, that sort of thing doesn't usually tempt me in the least. Think of that time you had way too much of a certain drink, say margaritas (Angie, I'm looking at you), and now every time you even think of tequila your gag reflex kicks in. It's sort of like that, minus the gag reflex, but still I have no desire to inflict that sort of torture on myself.
Most people I know apologize when they are indulging in their sugary goodness of choice  when I'm around, knowing I can't eat it. Let me assure you, this is totally unnessesary. I don't want it and if I get a sugar craving there are substitutes. Still, thos flippin' Cadbury Caramel Eggs are calling to me and I haven't run across a suitable substitute.
Damn you, G, Hurry up and eat them so I don't have to keep thinking about them.
Okay, so it's Friday and I'm a day late. And my writing number over there to the right has been stagnate for over a week. You must be thinking, "What the heydo is she doing?" Well, the last few days were filled with book design stuff. I, along with my book designer Lisa Liddy at The Printed Page, have been brain storming and working on ideas and I am happy to announce I should have the book cover to show you sometime today or tomorrow. Woot!
As far as that writing number, I have spent the last week editing over 22,000 words. So I am getting it done, so to speak.
On to my weekly book of choice.
Adrain Phoenix
A Rush of Wings
Urban Fantasy
From the B&N Website:
"HIS NAME IS DANTE.
Dark. Talented. Beautiful. Star of the rock band Inferno. Rumored owner of the hot New Orleans nightspot Club Hell. Born of the Blood, then broken by an evil beyond imagination.
HIS PAST IS A MYSTERY.
F.B.I. Special Agent Heather Wallace has been tracking a sadistic serial murderer known as the Cross Country Killer, and the trail has led her to New Orleans, Club Hell, and Dante. But the dangerously attractive musician not only resists her investigation, he claims to be "nightkind": in other words, a vampire. Digging into his past for answers reveals little. A juvenile record a mile long. No social security number. No known birth date. In and out of foster homes for most of his life before being taken in by a man named Lucien DeNoir, who appears to guard mysteries of his own.
HIS FUTURE IS CHAOS.
What Heather does know about Dante is that something links him to the killer — and she's pretty sure that link makes him the CCK's next target. Heather must unravel the truth about this sensual, complicated, vulnerable young man — who, she begins to believe, may indeed be a vampire — in order to finally bring a killer to justice. But Dante's past holds a shocking, dangerous secret, and once it is revealed not even Heather will be able to protect him from his destiny…."
Rwar. Dante is a dark sexy vampire who speaks Cajun French and is a rock star. Nice right? He also has a dark past that when combined with his kindness, loyalty, and tender heart makes for a hero it's easy to root for. FBI agent Heather is a different kind of heroine. She's tough sure, but she is no nonsense and practical. It's interesting to watch her go through the process of accepting Dante and falling for him.
Adrain's tale is dark, twisted, and has plenty of plot, but the characters are what is most interesting. Plus it's set in New Orleans (you know I love that). I couldn't get enough. Not only that but Adrain has a beautiful writing style, I couldn't help but admire. If you like urban Fantasy or vampire novels this one is a must have.
I almost gave you another urban fantasy today, but decided to change it up a bit.
Ally Carter
I'd Tell You I Love You, but Then I'd Have to Kill You
Young Adult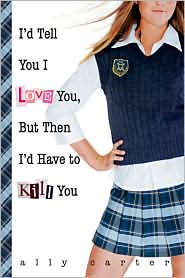 From the B&N website
"Cammie Morgan is a student at the Gallagher Academy for Exceptional Young Women, a fairly typical all-girls school—that is, if every school taught advanced martial arts in PE and the latest in chemical warfare in science, and students received extra credit for breaking CIA codes in computer class. The Gallagher Academy might claim to be a school for geniuses but it's really a school for spies.
Even though Cammie is fluent in fourteen languages and capable of killing a man in seven different ways, she has no idea what to do when she meets an ordinary boy who thinks she's an ordinary girl. Sure, she can tap his phone, hack into his computer, or track him through town with the skill of a real "pavement artist"—but can she maneuver a relationship with someone who can never know the truth about her?
Cammie Morgan may be an elite spy-in-training, but in her sophomore year, she's on her most dangerous mission—falling in love."
I'll admit this isn't the usual kind of book I'd read. I am a paranormal/urban fantasy kind of girl at heart. Obviously. Sure, I try other stuff when friends recommend it, but when left to my own devices you can bet I'm in one of those categories.
I ran across the Cammie Morgan series while frequenting Kristen Nelsen's blog (Ally's agent). For those of us aspiring to be published (at least traditionally), Kristen's blog is a must read). On a whim, I ordered the book when Kristen announced it had hit the New York Times best seller list. I finished it in one sitting and  was hooked. Although I admit I don't stalk Ally's website for publication dates like I do some my favorite Urban Fantasy authors, I have read and thoroughly enjoyed each book in the series.
Who doesn't want to read about girls in high school, training to be high level spies? These books are fun, easy reads and I wish they'd been around when I was a preteen. They would have been a nice contrast to the dozens of Sweet Valley High books I devoured.