New Orleans
Category
Remember back in November when I told you all I was taking the NANO, write a book in a month challenge? Well, I tried and failed. I got about 10,000 words on the pages, then crashed and burned. I stopped writing all together for about three months. I then started working on another idea, got about 12,000 words written, then was stuck. So what did I do? I went back to that first novel on my hard drive and pretty much started it over. A lot of the original words are still there, but I moved them around and changed a bunch of things. I now have about 24,000 words down.
However, as of last night I still didn't have a complete plot. Oh there are ideas and threads of one, but not a complete one. Its hard to know where to go from here without one. So this morning, I just decided to talk it out. I was talking to Greg, but really I was the only one talking. I suspected he was just being polite. Then, he said some off the cuff remark, not unusual for him, and a lot of things clicked in place. I do believe I now have an actually working plot. Of course now all I want to do is write, cause my brain is turned ON. That is not going to happen right now though, as it is our day off and that means we do something together. I doubt Greg is going to think me writing while he listens to the sound of typing is his idea of a fun day.
While, I am not going to tell you a lot of what it is about, I will tell you it is set in New Orleans, the protag ends up bartending at a strip club, and she sees ghosts. No title yet. It is alluding me. Maybe once I flesh out the plot, it'll come to me. You'll be the first to know. Well probably the second, since I am pretty sure I'll tell Greg whether he wants to know or not.
Hello! I am back from having internet issues. So let me take care of a bit of business. First off here is my 99 cent Friday and Tuesday specials on ebay this week. I have been pleased with the 99 cent promotion, so I am continuing it through April. Every Tuesday and Friday I will list a 99 cent auction, be sure to check back.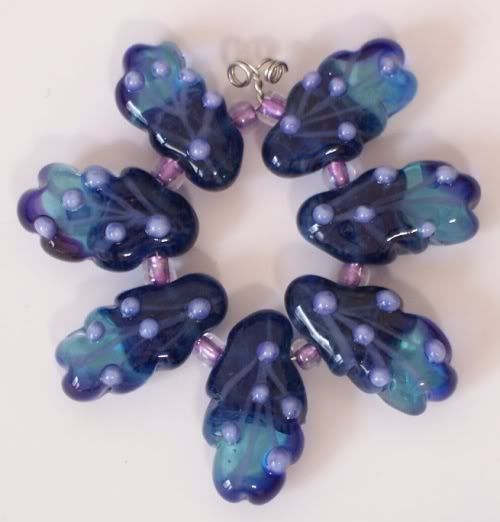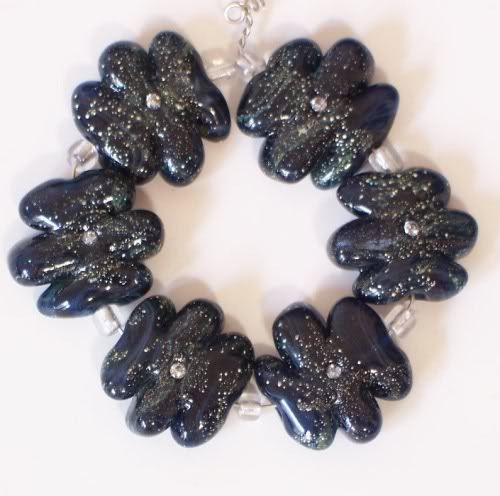 Now that we are done with that, I would like to point your attention to an Etsy sale I am a part of. I have joined a new group "LEST". It is a group solely dedicated to promoting handmade lampwork beads on Etsy. As a kick off, the group is offering 10 to 20% off select items from April 1st to the 7th. Click HERE to see my 20% offerings and HERE to see the whole groups offerings. As of right now there are over 700 hundred items being offered for ON SALE by the group. Now what does LEST mean? Simply it is Lampwork Etcetera Street Team. We all belong to the forum lampworketc and we formed an Etsy street team. From that we get LEST.
As for what I am up too, well the internet just stopped working on my work computer, although it worked on the laptop we have, so I spent a grand total of over 10 hours on the phone with service techs rebooting, restoring, turning off and on, resetting settings and ended up doing a system restore on my computer, losing all my programs and a few things I forgot to save. What a PITA. The worst part is the system recovery did nothing. It just started working again Sunday afternoon., We have no idea if it was one of the setting we changed or what. Computers are just a mystery to me.
We did have a grand time on Saturday evening when we celebrated our 12th wedding anniversary. We spent the evening eating a fabulous meal down in New Orleans and then bar hopping and people watching on Bourbon street. That place is such a great study in human behavior. There was lots of flashing going on, even though it is not Mardi Gras season (though not by me). :-) It was the tail end of spring break and there were lots of college aged kids, although there is always a huge mix of people. I mean really, there were ladies in their 60's at least, wondering the streets around 1am with lots of beads…we found ourselves wondering if they flashed for those and then decided we didn't really want to know.