New Orleans
Category
You'd think with a title like that I'd have a beach house, a ski cabin, and a condo in Belize right? Oh, that would be nice. No. I just have one cute little cottage in southeastern Louisiana.
It's pretty adorable right? Yeah, I think so too. I'd like to transplant it right into New Orleans. We live north of the city and that has many advantages, like being relatively safe from hurricanes and low crime and about half the cost–at least is was half the cost.
But the house prices are getting closer together. And that is exactly the type of thing that makes me want to house shop. It's a hobby. I love to look at real estate just about anywhere, but when it's New Orleans. Oh my.  Greg and I both just adore the old houses.
And that is what got us out of the house on Saturday. It was only 94 degrees with a heat index of 117. Perfect day for a stroll right? Yeah. That's what I said. But we did it anyway. We are slowly narrowing down the area we want to live in should we ever have the means to actually move there.
Top of the list is Algiers Point. It's just a short ferry ride across the Mississippi from the French Quarter. This is what we went and looked at.
The upstairs is a three bedroom and downstairs has two studio apartments. We were thinking one could be the studio and the other we'd rent out. It's pretty darn cheap, but it does need some work. I mean it's over 100 years old and in New Orleans. Everything needs work. Of course this is just speculation, cause we aren't really moving. But it sure is fun to look. I have more fun running around looking at houses than art shopping. That's saying something.
This is what Greg fished out of the kiln this morning. He named it. I didn't. :)There is a courtyard in the middle with a ghost hanging around in there.
On any given day you can find at least half a dozen street performance artists doing their thing down in the French Quarter. It wouldn't be Jackson Square without the silver metallic painted man standing for hours in various poses.  And who would tourists take their picture with if the guy walking a battery operated dog or the guy who balances on the wooden latter, seeming to defy gravity, didn't come out to entertain them?
Yesterday, a perfect spring day, Greg and I headed off to NOLA for a much needed day off and to celebrate our fifteen-year anniversary. We didn't have a plan other than to eat at Muriels, where I had the crawfish and goat cheese crapes. Oh. My. God. I thought I'd died and gone to heaven. Yeah, the filet mignon was excellent, but I could have happily gorged myself on crapes all night.  Anyhow, it was a beautiful out and we opted to spend the day exploring the quarter. Sure, we live nearby so we've done this dozens of times, but while the quarter seems to stand still in time, it's ever changing  with new artists and shops coming and going. We like to check in and see what's happening.
We walked until our feet started to complain and settled on the steps outside St Louis Cathedral to listen to some live music and people watch. That's when we spotted him. Imagine if you will a tall, six-foot-four, man weighing no more than one hundred-twenty  pounds…in a purple unitard, with only a fanning pack positioned over his man bits. Don't forget to factor in the grunge-fro look he had going on for a hairstyle.
The look alone is enough to frighten you, yes?
Yeah, well you didn't see his act.  *Insert creepy dance music here* and add naked baby dolls and body parts. A few baby dolls as well as some sort of animal skeletons were tied up as marionettes that he danced around, all the while doing his signature pelvic thrust for the obviously horrified crowd. Remember the fanny pack? Yeah, thank God for that. Though I had to wonder if he was hurting himself with all the bouncing it did.
And just when I thought it couldn't get worse, he knocked a baby doll's head off and somehow manged to get the hands and feet of a doll onto his fingers, which he then walked over to the feet of a few teenage girls, where the baby doll's head had landed. There was a bit of yelping and jumping back at this point. All I could think about was my friend Kelley who is terrified of dolls and I couldn't stop laughing. What her face would have looked like.
Anyway, I apologize for not snapping a picture, but I couldn't bring myself to do it. Then I'd have been obligated to tip this poor misguided soul.
When jewelry designers make beads and bead makers make jewelry. This weekend my friend Lisa of JoolzbyLisa came to visit. Mostly just for some R & R, but lots of girl talk and a trip into New Orleans. As part of our visit, Lisa taught me how to make a treasure bracelet. Wowza, those things take time. I must have spent at least a good eight hours working on mine. I am really pleased with how it came out though. Lisa is a good teacher. She also brought almost all of the supplies. We did make one emergency trip to Hobby Lobby for some larger seed beads and another to Walmart.  I didn't have a big enough needle.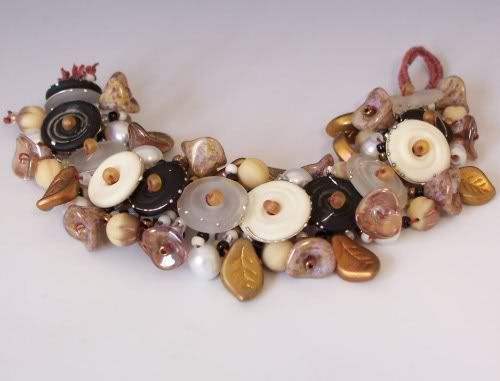 In return, I gave Lisa her second lampworking lesson. She had one last year at Bead Camp, where she made a few pairs of earring beads. So it has been over a year since she had her first lesson. This time she made a set of beads with silver. I instructed her on a technique shown to me by another friend Shawn of SetInGlass. I have already showed off Lisa's beautiful beads to my lampworking girlfriends. We all agree it's good she doesn't have her own torch, she'd be putting us to shame in no time. Ya'll will never have the opportunity to see the beads I made in my second torching session. They were U-G-L-Y, and I have long since tossed them into the abyss. Though Lisa are utterly gorgeous. Here is the proof:
I hope you all had a wonderful 4th of July.  We had a very nice time visiting with friends who were vacationing in New Orleans.  We went down and had dinner with our friends at Muriels.  Greg and I had eaten there once before.  I remember being pretty impressed with my blackened tuna, but Greg didn't remember it as much.  So it was a bit of a surprise when we all ordered something different and all decided we had ordered the best thing on the menu.  We ate entirely too much, drank too much, and then they all had dessert with out me.  (Stupid migraines.)  It was very very yummy!
Then we watched the fireworks on the Mississippi.  The city has dueling barges, so we got to see in sinc, or almost in sinc exploding fireworks.  It was cool, accept it only lasted 12 minutes.  I think I would have preferred only one barge and a longer show.  Twelve minutes hardly seemed worth it.  Though we did get to visit with good friends, so it was all good…until we wanted to leave the parking garage!  Yikes!
We were on the 6th floor and it didn't look good, (backed up at least two more levels) so we went to a bar and sat around drinking bottled water.  How cool are we?  Hey Greg had already had his share of hurricanes for the evening and I am a non drinker these days.  (Sucky stupid migraines.)  Anyway, we people watched until midnight, finally braved the parking garage and made it home about 2am.  The fireworks ended at 9:12 pm.  So the verdict is in.  It isn't on the list of things to do next fourth of July.  But back to Muriels we will go.  Did I mention yum?