Louisiana
Category
Spring is here and I couldn't be happier about it. It is 70 degrees out today, warm and beautiful, low humidity. It is definitely a beach day. Too bad we won't make it out there today. It's all okay though. Our yard is coming to life. The blueberry bushes, the pear tree, the azalea bush, the Japanese magnolia, and my camillia tree are all blooming. We just realized our mystery tree is a magnolia and it should be blooming any day now. I am pretty excited about that. It looks like it will be beautiful. My bouganvilla plants look like they survived. yay! I didn't kill them. Though we are still unsure about the hibiscus and the basil plant ( I might have succeeded in killing those). Although to be truthful, I don't care about the basil plant. It had taken over my herb pot. The chives survived and thats what matters to me. I will be upset if the hibiscus don't make it. Those are my favorites, but it looks like one might survive at least. Dang, just call me plant killer. To keep my spirits up, I took pictures of the azalea and the camilla.
Every since the first time Greg and I went to New Orleans in 2003, the culture and vibe started to sink in. We found ourselves drawn to the place and anytime we were close (you know close is within 600 miles) we made it a point to stop and spend time here. We visited four times in our travels back and forth across the country, which is saying something since we rarely went anywhere twice, always on the hunt for the next adventure.
When we found ourselves always thinking about coming back, stalking real estate on the internet and in general dreaming of the place, we knew it was time. While we would love to live in the city, dream of living living there, it just wasn't practical for our situation. First off we wanted to keep the rv (which we are now trying to sell ironically), however keeping it and having a place in NoLa wouldn't work if we wanted to store it on our property. That is like saying you have a place in New York City or San Francisco and keep your rv with you. Not really doable.
Then there was the whole financial aspect. Wanting a lampwork studio and and office and a guest room meant more and more money to own a place and renting with a torching studio can be difficult at best. Plus the whole property insurance thing down there, ouch! We found ourslelves looking outside of the city. Which is where we found our pretty little cottage in a quiet town, on the north shore. We do love it, but still dream of New Orleans. However, it is close enough to go in whenever we want. Best of both worlds in our eyes.
Still NoLa's culture, architecture, and it's vibe have stolen a place in our hearts. Which brings me to Greg's newest marble:
Garden District NoLa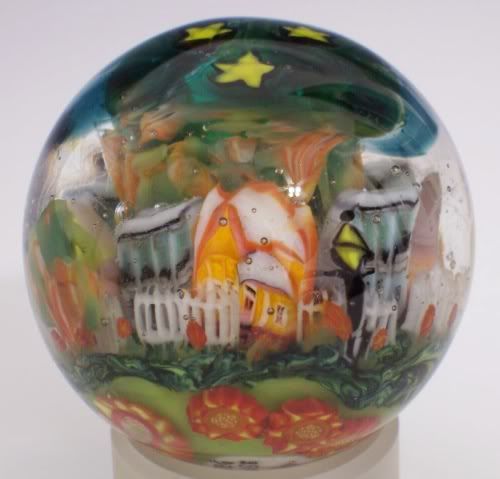 The ideas for the marble have been roaming around in Greg's head for about a year now. Finally it morphed into his vision. Stay tuned for the upcoming French Quarter marble. :-)
Okay, so I don't talk politics much online. Mostly with just Greg, my hubby and in our own home. However, I just have to say that is an exciting historic time for the nation. The two perceived front runners for the democratic party are making history and I am excited to be here to see it. I will spare you my views and opinions, but want to encourage everyone to vote, no matter who you are or who you want to vote for. Get out there and let your voice be heard! I am looking forward to a better next four years no matter what happens.
Okay, so enough politics. I am ready for Spring to get here. Really, I mean we have only had a few weeks of winter at best here and even then we have had some 70 degree days. However, all my plants look sad and like they have gone to sleep for the time. I am ready for them to come back to life and add color to my front yard. It isn't all bad though. Our tree in the back is blooming pretty reddish/pink flowers. That is something. Have a fantastic day, the sun looks to be coming out. YAY!
When moving to Louisiana, we knew we would have access to some local farms and crops.  What I didn't know is that the first strawberries of the season are in early January.  Early January?  Yes, it has hit freezing here lately a few times, but apparently the berries survived and  I couldn't be more thrilled.  Strawberries are my all time favorite fruit and maybe even my all time favorite food ever.  There is nothing better in my opinion that a fresh picked strawberry.  In fact any time we drive by a u pick strawberry patch, no matter where we are or what we are doing I ask Greg to stop.  He doesn't always, but most of the time he does.  Yes, I do go out and pick a flat of them, even though I could just get the already picked ones right there.  I like the fresh, fresh picked.  They just taste better.  Yum strawberries.  I need to get some today.
Speaking of freezing, we had a couple of freezing nights this last week and I think I may have lost a few of my hibiscus plants.   One of them is fine, but the other two are not looking so good.  My basil plant looks pretty sad to and I chopped it back, but have no doubt that thing will come back in full force.  It had taken over the herb pot.  Yikes, aggressive thing.  I also took it upon myself to prune the sad pear tree we have.  I ended up on the roof of the shed.  I bet Greg didn't think I'd really go up there.  I did as much as I could reach from the ladder and the roof.  Hopefully it will do better this year.  Last summer it looked really sad, but it is clear it hadn't gotten any love for a while.  Hopefully this year will be a come back year for it.
Just a reminder, we are still running our 20% off sale on the website.  Today is the last day!
Right now my wonderful hubby is outside vacuuming the yard.  We are calling it vacuuming because he is mowing to get up all the leaves and acorns that have fallen down.  Ya the yard probably does need to be mowed, but not much.  That could wait.
What I find interesting and little bit funny, is for years he has said he didn't want a house because he didn't want to have to do the maintenance and keep it all up.  He wanted more time to purse art and play and just have fun.   So when we fist got together we bought a condo.  Truthfully it was really all we could afford in the Bay Area in CA.  It was a nice place in a nice area. We were there for seven years and were happy with it.  I always thought I would prefer a house, but turns out at the time that really was the right choice for us.  We were busy working and no time for upkeep.  It was great when the pipe over head burst and all we had to do was call the home owners association.
Then we sold it all and moved into an RV.  Really we had no structure to upkeep.  Ya, RV maintenance, but no expensive home repairs and Greg loved it that way.  He would always remark on how he didn't have to do any yard work, painting, or any install any floors.  Seems the whole family installed some sort of hardwood flooring within two years, with the help of my dad.  We were starting to think it was his new hobby.
So four years into RVing full time we started talking seriously about a home.  The range of renting apartments, to just getting a place to park the rv part of the year and build a studio, to actually owning a home was discussed at length.   All three were a serious plan at some point.  I think I just really wanted a home, a permanent home.   To make our own and home exchange, build a studio, have a place for the dog to roam.  So we decided on that, all the while with Greg telling me the yard was my responsibility.  No problem I kept saying.  I have no problem with that.
So it did pretty much start out that way.  Well, Greg did chop everything down and did a lot of work as everything was overgrown to the point of jungle proportions, but after that I was in charge of mowing.  I still have no problem with that.  However, my husband has taken over.  he LIKES it.  He likes maintaining his yard.  He made a compost pile.  He planted blackberry bushes, got me some blueberry bushes and checks his yard everyday.  Who is this person?