Louisiana
Category
Really?  Louisiana is so weird.  We live across the street from a school, so imagine my surprise when I got up this morning to see the normal Monday morning line of cars waiting to drop the kids off for school.   Whats more funny is they get two days off for Mardi Gras.  Gotta love the priorities around here.  Even worse, I am pretty sure today is the last day of school.  Whom ever made the school schedule should do better to make note of such holidays.  Would it have killed them to start a day earlier so the families could enjoy Memorial Day?  Not that is effects me one way or another, just struck me as odd.
BTW, I have put down the potato salad and have moved on to macaroni salad.  I don't like it as much as potato, which may help curb my intake.  *wink*
I admit it. I LOVE potato salad. It's my favorite item at the BBQ and often something I can't eat. You see, I cannot eat refined sugar. Gives me migraines. So I usually stand staring at the potato salad, full of store bought mayo (which always has sugar in it) and think, if only I'd made some myself. Only I couldn't or wouldn't use that light no sugar added mayo. No I have to make my own. Which turns out is really no big deal and when chives are added. YUM!
So today is our day off, sorta. Saturdays are usually our day off, but we ended up a little off schedule this week and decided Sunday would be the day off. Which is great except it's Mother's day and our moms are over 2000 miles away and local events are a bit limited this weekend. Which means we had no plans. This morning Greg asks me what do I want to do? I have no idea, so I ignore him and kept watching the Sunday morning politico programs, which have nothing new at all to say. Boring. So the topic of conversation runs to the weather. How exciting are we?
The weather is hot here. It's 80 degrees and humid. We, like so many others, are trying not only to conserve energy, but to save some money and are resiting turning the air conditioner on. All four of the ceiling fans are on, the back door is open and the box fan off the kitchen is going, and the kitchen window is open. This leaves the only cool place in the house in the kitchen, as the two front doors do not have screens and most of the windows in this old house are painted shut. Stifeling! Our indoor, people loving dog, has decided the only sane place to be is outside in the shade. She's the smart one. There is a breeze going and it is quite nice out there.
So Greg says, maybe we need a screen door for the office? Which is where I spend most of my time during the day and has a door leading out to the front porch. Immediately I say, "Yes, lets do that today." Off to Lowes we go at 9am. Yep 9am. I never get out the door before 10am, ever. It's hot, alright. So we get the screen door, come home and Greg proceeds to put it in. I, of course am suppose to be on stand by to help.
I, however, get a huge craving for potato salad. It's just that kind of day. Hot weather, bright sunny day. It's Sunday. What else do you do? You make potato salad of course. I haven't actually made any since I was like 13, with my mother. I don't remember the recipe, only that we used miracle whip. I can't even call her, as she is in Yosemite for vacation. Besides, she used miracle whip and I know I can't have that. Thank goodness for the internet. Four or Five clicks later I have a recipe I can use, or at least modify with most of the things in my cupboard. Only things missing, are potatoes and sour cream.
So I ditch Greg, no longer putting up the pretense I will actually help with the screen door and run to the Pig (Piggly Wiggly), which is two blocks from the house. Five minutes later I am back and merrily making my first potato salad in over 15 years. It took two tries to get my mayo made. I missed a step and had to start over. No big deal, I had plenty of eggs and oil. But after that is was all smooth sailing. My perfect potato salad is so yummy, that when Greg came in to tell me the door was up, I announced I was leaving him for my potato salad. This after he put in a screen door. I am now happily at my desk, with a cool breeze running through my office due to his hard work.
I'm lucky, he is a good sport. He left to get another screen door for the front door and some boiled crawfish to go with the salad…that is if there is any left when he gets back. :-)
Hello! I am back from having internet issues. So let me take care of a bit of business. First off here is my 99 cent Friday and Tuesday specials on ebay this week. I have been pleased with the 99 cent promotion, so I am continuing it through April. Every Tuesday and Friday I will list a 99 cent auction, be sure to check back.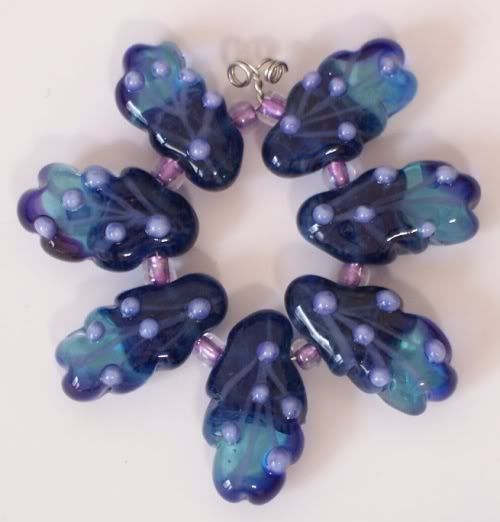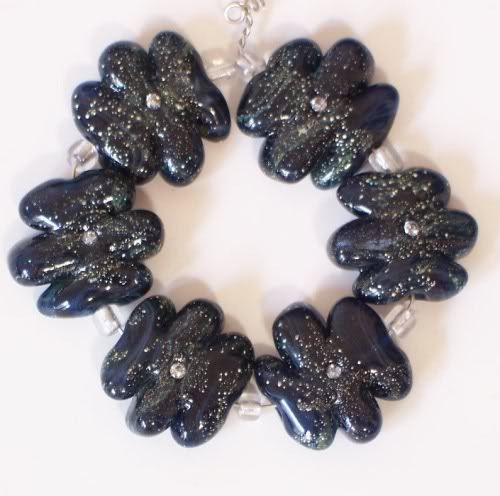 Now that we are done with that, I would like to point your attention to an Etsy sale I am a part of. I have joined a new group "LEST". It is a group solely dedicated to promoting handmade lampwork beads on Etsy. As a kick off, the group is offering 10 to 20% off select items from April 1st to the 7th. Click HERE to see my 20% offerings and HERE to see the whole groups offerings. As of right now there are over 700 hundred items being offered for ON SALE by the group. Now what does LEST mean? Simply it is Lampwork Etcetera Street Team. We all belong to the forum lampworketc and we formed an Etsy street team. From that we get LEST.
As for what I am up too, well the internet just stopped working on my work computer, although it worked on the laptop we have, so I spent a grand total of over 10 hours on the phone with service techs rebooting, restoring, turning off and on, resetting settings and ended up doing a system restore on my computer, losing all my programs and a few things I forgot to save. What a PITA. The worst part is the system recovery did nothing. It just started working again Sunday afternoon., We have no idea if it was one of the setting we changed or what. Computers are just a mystery to me.
We did have a grand time on Saturday evening when we celebrated our 12th wedding anniversary. We spent the evening eating a fabulous meal down in New Orleans and then bar hopping and people watching on Bourbon street. That place is such a great study in human behavior. There was lots of flashing going on, even though it is not Mardi Gras season (though not by me). :-) It was the tail end of spring break and there were lots of college aged kids, although there is always a huge mix of people. I mean really, there were ladies in their 60's at least, wondering the streets around 1am with lots of beads…we found ourselves wondering if they flashed for those and then decided we didn't really want to know.
It is gorgeous out today!  I have a load of computer work to do, but I just can't help myself.  The dog wanted to go out, so I took her.  The sun is bright and warm, with a slight breeze.  Spring is in the air.  Flowers are blooming.  Yesterday was 80 degrees!  I think we are in to a 70 degree day today and while I am suppose to be editing pictures and going through my emails, I took a detour instead.  I trimmed back my boulganvilla plants that are starting to sprout green.  I wanted to clear away the dead branches in hopes it blooms faster.  Yes, I have patience issues.  I also spotted some green sprouting on my hibiscus plants, two of the three anyway and the third one is the slower growing one, so I have high hopes!  I watered a few things then just spent time admiring the pear tree that is blooming and saying hi to the lizards.  Today is the kind of day I wished my lap top wasn't a dinosaur and I could do my work computer work on the porch.
Just a few more New Orleans style marbles from Greg.  Now on ebay.
French Quarter:
City Of the Dead!