Lampwork
Category
Hello! It's been a while since I updated. Sorry about that. I've been in my two caves working my butt off…or more specifically, keeping my butt in the office chair writing Demons of Bourbon Street and moving it to my studio chair getting ready for Bead and Button. If you're in or around Milwaukee this coming weekend, head on over to the convention center for some amazing bead and jewelry browsing. I'll be in booth number 1238.
In other news, Witches of Bourbon Street is now available in audio book. You can find it on Audible, iTunes, and Amazon. I've had a lot of people ask about Demons of Bourbon Street. It should be out in September in ebook and print. It takes a couple of months for audio production, so hopefully by December. The wonderful Traci Odem will be narrating again.
Hello!
Happy Thanksgiving to those in the US. Happy holidays to everyone else. Greg and I are spending a quiet Thanksgiving together with our giant twenty pound turkey. Yep, twenty pounds for two people. We love leftovers.  While I'm slaving over a fancy Thanksgiving dinner for two, we are running a sale!
This is our annual Giving Thanks sale. Sale starts at midnight Thursday morning and runs for 48 hours, ending Friday night at midnight (11/26/11 @ 12:00am).
All murrine 50% off
All beads 25% off
Happy shopping!
Thank you so much for all your wonderful support. We couldn't do this without you.
Deanna and Greg Chase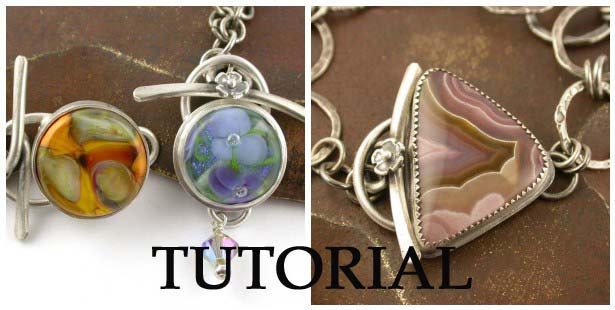 The wonderful Laura Pacino of Simply Adorning has a brand new tutorial out. It's labeled  Beginning Metals Fabrication-Bezeled Toggle Clasp.  I had the opportunity to preview this ebook and let me just say it's wonderful.
I've had very little experience with metal fabrication. I took a class six years ago, but due to time restraints I never made anything other than some disks at a friends house, which means I barely remember anything. Oh, I vaguely recall filing and sawing and pickling, but if I were to sit down and try to make something, disaster would ensue. But I didn't have any trouble following along with this tutorial. Laura even gives you part numbers for tools and materials so it's easy to find the items she is talking about. I love that! Especially since I am such a noob.
The tutorial is how to set a stone, but she also discuses tips and tricks for glass beads. See the picture on the left? The bead on the right is one of mine. Doesn't it look gorgeous? Laura makes everything look awesome.
Anyway, the tutorial is clear, the pictures are awesome, and since part numbers are listed, tools and supplies are easy to find. I'd say it's well worth the $25 price tag. Check it out!
It's been over a week since I posted. Most of that is because I was out of town last weekend at Hottime on the Mountain in Asheville, NC. I was fortunate enough to be asked to demo one of my murrine ring beads.
I made one like this but added butterflies. It went pretty well, despite using a smaller torch than I am used to (which is pretty much always the case in these settings and is totally fine). It just means the poor attendees had to spend a lot of time watching me wait for glass to melt.
However, on Sunday morning many of them showed me their class beads and everyone did super awesome. I know what it feels like to be scared of using murrine. Greg (the hubby) is a master and it still took me years to get comfortable with trying. It's really not that hard, I promise.
Anyway, I came home with a pretty nasty head and chest cold. This is what happens when one doesn't have kids and rarely spends a bunch of time with the general public. Our immune systems just aren't up to fight off the latest germ de jour. Hopefully I don't infect Greg. Two of us sick just won't do. Especially since I'm feeling pretty pathetic right now.
One bright spot in my day however is a five heart review I just found on Sizzling Hot Book Reviews of Haunted on Bourbon Street. It's the first book blogger review I'm aware of and I couldn't be more thrilled.
"Haunted on Bourbon Street
 is a wonderful debut novel for Deanna K Chase with a well developed plot, strong characters and a multi-faceted story line with twists and turns to keep you thinking.Haunted on Bourbon Street
  is sultry and sexy with just enough tension to want the reader to scream, yet enough details to leave the reader satisfied that they aren't guessing what's going on. I have to say, pick up Haunted on Bourbon Street
and just enjoy it for the paranormal mystery romance that it is."
Yay for a pick me up!
Confession time. I'm a bead maker who rarely wears jewelry. I'm usually at home writing or in the studio making beads. It isn't an existence that lends itself to getting dressed up. Or getting dressed at all for that matter. I could spend all day in my jammies and no one would know.
So when it comes time to actually go somewhere, I almost always forget to add a piece of jewelry. Sure, I have pieces. I display them at shows, pull them out for my bead events, but on a daily basis? I often have to dig around in my purse for a bead to show a stranger what it is I do when the subject comes up.
But now I think that is all about to change. I have a customer, Laura of Simply Adorning, who does the most amazing things with my beads. Man-o-man does she make them look awesome! I never knew my beads could look so good.
This peacock pendant was the first piece I got from Laura. She made one and sent me a picture. I knew right them I had to have one.
Then I saw this in her store! I'm a bit of a sucker for a ring, but when I saw my floral bead set in there…wow, just wow. I love this ring.
But this is the piece I adore. Simply adorning indeed. Just gorgeous. How could I resist wearing this at every opportunity?
You can find variations of each of these pieces in Laura's Etsy store.