House
Category
I admit it. I LOVE potato salad. It's my favorite item at the BBQ and often something I can't eat. You see, I cannot eat refined sugar. Gives me migraines. So I usually stand staring at the potato salad, full of store bought mayo (which always has sugar in it) and think, if only I'd made some myself. Only I couldn't or wouldn't use that light no sugar added mayo. No I have to make my own. Which turns out is really no big deal and when chives are added. YUM!
So today is our day off, sorta. Saturdays are usually our day off, but we ended up a little off schedule this week and decided Sunday would be the day off. Which is great except it's Mother's day and our moms are over 2000 miles away and local events are a bit limited this weekend. Which means we had no plans. This morning Greg asks me what do I want to do? I have no idea, so I ignore him and kept watching the Sunday morning politico programs, which have nothing new at all to say. Boring. So the topic of conversation runs to the weather. How exciting are we?
The weather is hot here. It's 80 degrees and humid. We, like so many others, are trying not only to conserve energy, but to save some money and are resiting turning the air conditioner on. All four of the ceiling fans are on, the back door is open and the box fan off the kitchen is going, and the kitchen window is open. This leaves the only cool place in the house in the kitchen, as the two front doors do not have screens and most of the windows in this old house are painted shut. Stifeling! Our indoor, people loving dog, has decided the only sane place to be is outside in the shade. She's the smart one. There is a breeze going and it is quite nice out there.
So Greg says, maybe we need a screen door for the office? Which is where I spend most of my time during the day and has a door leading out to the front porch. Immediately I say, "Yes, lets do that today." Off to Lowes we go at 9am. Yep 9am. I never get out the door before 10am, ever. It's hot, alright. So we get the screen door, come home and Greg proceeds to put it in. I, of course am suppose to be on stand by to help.
I, however, get a huge craving for potato salad. It's just that kind of day. Hot weather, bright sunny day. It's Sunday. What else do you do? You make potato salad of course. I haven't actually made any since I was like 13, with my mother. I don't remember the recipe, only that we used miracle whip. I can't even call her, as she is in Yosemite for vacation. Besides, she used miracle whip and I know I can't have that. Thank goodness for the internet. Four or Five clicks later I have a recipe I can use, or at least modify with most of the things in my cupboard. Only things missing, are potatoes and sour cream.
So I ditch Greg, no longer putting up the pretense I will actually help with the screen door and run to the Pig (Piggly Wiggly), which is two blocks from the house. Five minutes later I am back and merrily making my first potato salad in over 15 years. It took two tries to get my mayo made. I missed a step and had to start over. No big deal, I had plenty of eggs and oil. But after that is was all smooth sailing. My perfect potato salad is so yummy, that when Greg came in to tell me the door was up, I announced I was leaving him for my potato salad. This after he put in a screen door. I am now happily at my desk, with a cool breeze running through my office due to his hard work.
I'm lucky, he is a good sport. He left to get another screen door for the front door and some boiled crawfish to go with the salad…that is if there is any left when he gets back. :-)
Spring is here and I couldn't be happier about it. It is 70 degrees out today, warm and beautiful, low humidity. It is definitely a beach day. Too bad we won't make it out there today. It's all okay though. Our yard is coming to life. The blueberry bushes, the pear tree, the azalea bush, the Japanese magnolia, and my camillia tree are all blooming. We just realized our mystery tree is a magnolia and it should be blooming any day now. I am pretty excited about that. It looks like it will be beautiful. My bouganvilla plants look like they survived. yay! I didn't kill them. Though we are still unsure about the hibiscus and the basil plant ( I might have succeeded in killing those). Although to be truthful, I don't care about the basil plant. It had taken over my herb pot. The chives survived and thats what matters to me. I will be upset if the hibiscus don't make it. Those are my favorites, but it looks like one might survive at least. Dang, just call me plant killer. To keep my spirits up, I took pictures of the azalea and the camilla.
The topic on Flaming Hot this week is "it's the little things." The little things are why I love my job so much. I try not to take it for granted that I can just wake up on a Tuesday and decide to just take off and go into New Orleans, or the gulf beaches, or just out to lunch and never think twice about it.
Prior to settling here in Louisiana, we sent 4 1/2 years traveling around in the RV, working various jobs and lampworking. I will never forget the one day about six months into our adventure, standing on the beach in Pensacola, FL on a Tuesday, with our toes in the surf. It is one of the most rememberable days ever. Greg and I were standing there enjoying a glorious November day, when he says to me, "What would we be doing right now if we hadn't quit our jobs and hit the road?" Easy answer. Working a very long day. They were decent jobs, but not anything I would be excited about going back to. I will never forget that feeling of freedom I felt right them. Almost a guilty pleasure really. I knew how lucky we were right them and I still do.
I am all but certain that if we had not made the decision to travel the country, we would not have made the decision for both of us to be full time glass workers. It changed us and our outlook. Now I can't imagine doing anything else. I love getting up at whatever time I wake up in the morning. I love doing all my work from my home computer, not having to get dressed before I start my day. If I am sick, I don't have to call in to someone who may or may not be understanding. I love how my life is all on my time, not someone elses. I can hop a plane and go see anyone without worrying about how to get time off. Even though we have settled and now have a house payment to make, I feel just as free as I did that day on the beach in Pensacola.
All of those perks aside, I do love my job. I love the way the glass melts in the flame. Even if I am just pulling stringer to start a project. Melting glass is a world in itself, where everything else is blocked out. It is mentally consuming, in a way that blocks out the rest of the world and all the issues in it. It takes concentration even when I am doing something so familiar, I think I could do it in my sleep. The nature of this, is that it is a great place to be when there is something on my mind. Whether I just need to let something go, or mull it over, or come to terms with it, torching during those times is a great gift.
As I write this, I realize this got a little deeper than I planned. Are these really little things? Maybe, or they may be great giant gifts. Either way I am grateful. I do love my job, even the computer work. Shhh, don't tell Greg I said that, even though I bet he already knows it.
So last week was my birthday. Happy Birthday to me! The morning of my birthday, I woke up to this running toward me: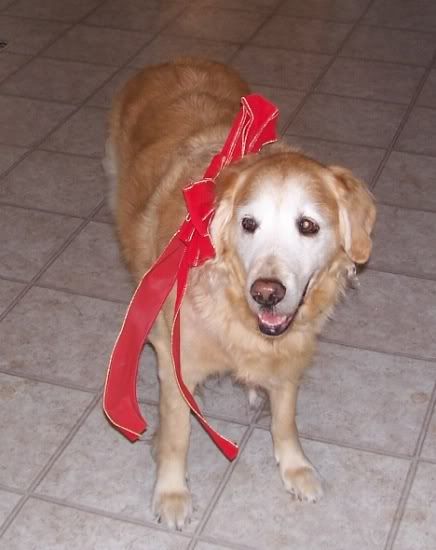 My pooch was my birthday gift from my hubby ten years ago. We always joke that every year she is my birthday gift, because she is the gift that keeps on giving. This is the first year she actually got a big red bow. She was pretty pleased with herself it seemed also. Of course anytime I am smiling at her and telling her how cute she is, she is pleased.
So even though the car broke down on our way to my birthday lunch, and then I got a migraine the next day when Greg tried to make it up for me, all in all it was good birthday. How could it not be, with such a sweet present? Here are some more of my favorite pics of my big red bow dog.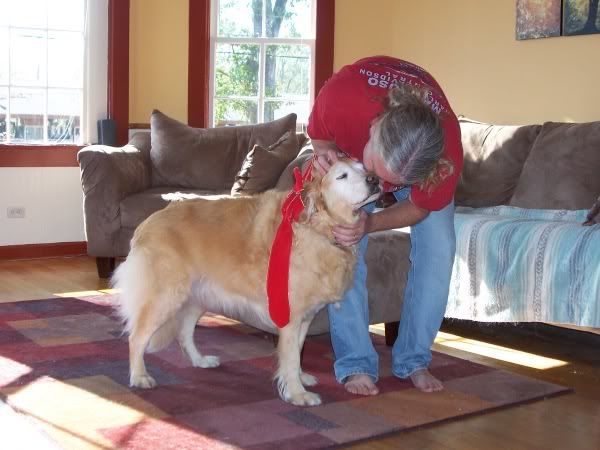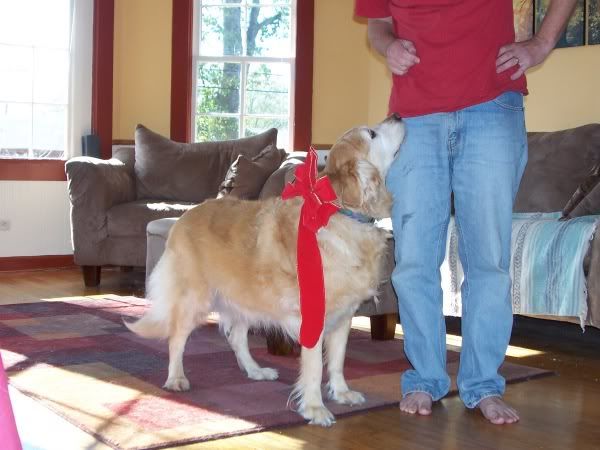 About once every month, our Golden Retriever has a night where she just can't sleep and appears to be stressed out.  Usually what happens is we go to bed, then a few hours later, she is scratching at our door urgently. We take her out, tell her to go to sleep and see what happens.  Usually she wonders around the house making a bunch of noise on the hardwood floors, wondering from each door to our bedroom.  We have two, so she paces back and forth.  Then she urgently scratches on our door again.
Usually by now we are both awake, and I take her out and walk her for what seems like an hour, but is probably more like 10 minutes.   Then she seems to be calmer, but it never fails, 5 or 10 minutes go by, then another urgent scratch scratch.  By now we have no choice but to bring her into the room with us.  She is loud sleeper, so this is our last resort.
This whole pattern happened again last night.  We don't know what it is that freaks her out, but apparently she just needed to be near us.  We are left wondering if there is a ghost dog terrorizing her in the middle of the night.   She is a 10 year old dog, who has never slept in our room, so it's not like we are breaking a habit.