House
Category
Really, I didn't.  In fact I mocked the weather forcast.  Greg said, "look it's says it's going to snow."
I said.  "Ya right."  Whatever.
Yesterday morning, I was woken up my my dear hubby at 6:30 am.  Ya, you read that right.  I don't get up at 6:30.  Ever.  Try between 8 and 9.  It did snow and it was sticking to the cars.  So I had to take pictures to prove to you it snowed right?  (I live in South East Louisiana.  It just doesn't snow here, or so I thought.)
By 7am our power was out.  Knocked out my a tree limb across the street.
By 10 am, the house and property looked like this:
Pretty right?  ya, I thought so too.  Except I was freezing!  I spent all day wrapped up in bed under the blankets.  Having no heat sucks.  It finally came back on at 11 pm last night.  Thank fate.
So we still have snow and it looks like this today:
That last picture is our neighbors house.  Hers is still pretty.
This last week the guest room got a make over.  We are calling it the guest room, but really it is MY room.  I am thinking of moving in there.  Poor Greg, he'll never see me anymore.
So here is the before picture (and let me just say, I Hated this room.  Really.  Couldn't stand it.  Never went in it.  I think I was actually a little afraid of it.  And the indoor outdoor carpet the previous owners put in had stains and smelled Bad.  You get the picture.  I HATED this room.)
Yes, the room is a bowling alley.  It's something like 6 feet wide and 28 feet long.  It use to be the back porch in a previous life.  I think the previous owners used it as an office, judging by the insane amount of cable and electrical outlets it had.  And the florescent six feet long shop lights.  ICK!
Okay, so this is the transformation:
Greg built the cozy nook and put in the carpet and I painted every square inch of the room.  It took me three straight days and man o man, was I tired when I was done.  I don't mind painting one bit, but all that raw wood just sucked up the paint and it took forever.
But I am very pleased, as is my dog Disney.  She thinks it is the best room in the house.  She just likes the carpet.  The rest of the house is hardwood floors.  She's slips around a lot on them.  She LOVES carpet.  So it's my retreat/reading room now and clearly my favorite place in the house.  My favorite room use to be my office.  A very soothing sage green room, complete with my desk top computer.  Sorry office, you've been upstaged.  :-)
In the face of $5.00 a gallon gasoline prices and ever rising energy costs the talk of going green is everywhere. I recently read that Toyota is having trouble keeping up with demand on it's popular Hybrid the Prius. Hallelujah! Good job consumers. I'd love to have one myself, but had to face the reality, a $22,000 car just isn't in my budget. When we were in the market for a car this last January, I did the best I could. Our car is a 2003 Nissen Altima and gets a bit over 30 mpg on the freeway. I tested it on my trip to Tennessee last month.
Other ways we are going green include:
Growing our own fruits and veggies
We planted two trees this spring
We compost
We only use those CFL light bulbs
I recycle my ink cartridges (I just mail them to HP)
Most of our electronics are on power strips to avoid vampire usage
Here is a big one. Everyday we see how long we can last until we have to turn the air conditioner on. It is so tempting to just leave the dang thing on all day and night here in Southeast Louisiana. A few days ago it got close to 100 degrees and yes it is very humid here. I am pleased to say we made it the whole day air conditioner less. The more we do with out the air, the more tolerable the heat is. (I can actually hear my friend Lisa thinking, "I am so not visiting her now." Not to worry, when you come visit, we will turn the air on for you sissies. :-)
There are lots more things we could do to reduce our own personal carbon footprint, unfortunately we just can't afford to do them at this time. So while we save up to do some of those things, like more energy efficient appliances and windows, we will be purchasing carbon offsets. Click here to calculate your footprint. Basically the money spent on carbon offsets goes toward developing and maintaining renewable energy projects. Our Footprint ranks an 8, still higher than the national average, and we don't even commute to work. We still have much work to do.
Post the ways you are going green. I am always on the look out for things we can do better.
One last thing, Greg has some ideas on what those of you with SUVs can do with them when you can no longer afford to drive them.
1) Gut them and turn them into a green house. The beauty of this is when the sun shifts, you can move them to better sun conditions.
2) Gut it and install a water holding tank. Thermal water heating. We all know how hot those things get in the summer.
3) Low cost student housing
4) Great sports bar, big cushy chairs, air conditioning, cup holders, and built in TV screens
5) Or maybe a SUV house for kids, you know, like a fort. Just keep the windows rolled down, they will be fine. Instead of a tree house, it's a SUV house.
Cool inks:
Greg wants one of these: Aptera
Isn't this fun? One of the other blogs I visit posted about a front porch party. See it HERE. The blog Rose Colored Glasses lists over 70 participants in the Front Porch Party. Click on it to visit other bloggers porches or dream porches. If you have a thing for porches like I do, it may take a while. Enjoy!.
Here is my front porch in the making. We have lots of plans for it, but so far haven't gotten to any of them: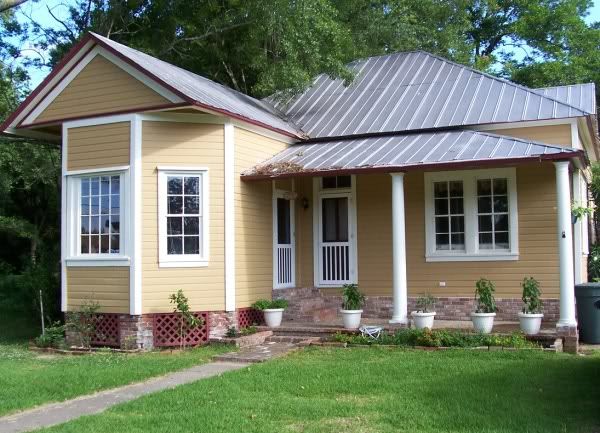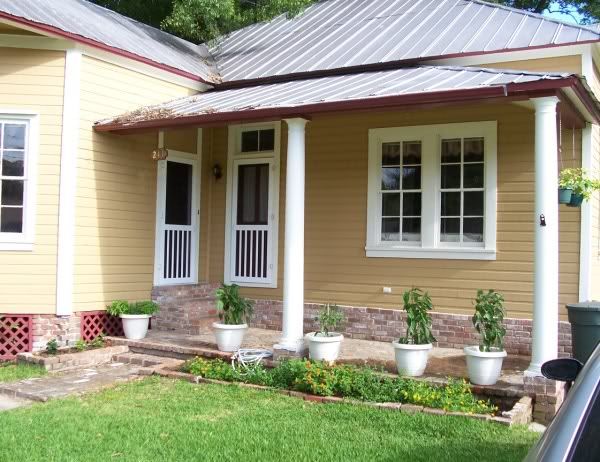 The potted plant closest to the house on the left is my herb pot. The other four are our pepper plants. We have a cowbell and red, yellow, and purple bell peppers. The bouganvillas hanging off to the right, usually hang in the front of the house, but they were not getting enough sun right now do to the sun being so high in the sky, so they were moved, for now.
We plan to build a wood porch and bring it up to the actual front door. Those brick steps are really high, which isn't a problem for us, being tall people, but anyone with aches or pains might have difficulty with them. Anyway the porch was on the schedule for this spring but didn't make it. Maybe in the fall. It's way too hot now. Also there are hooks for a porch swing. I can't wait for that. :-)
And just for fun: My sunflower patch.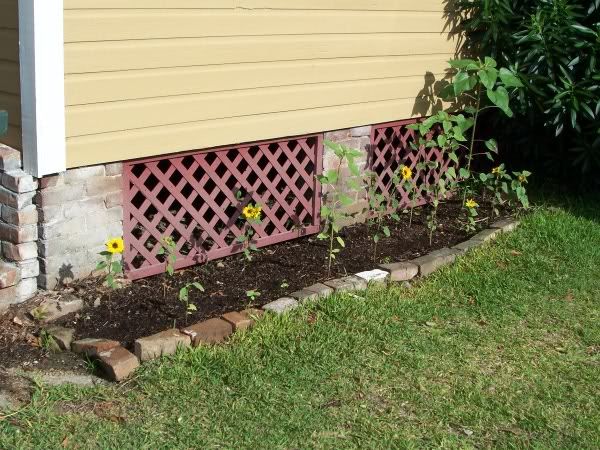 So this week we planted a summer garden. Problem is the area doesn't get a ton of sun. So we planted herbs and a few small tomato plants and summer squash, as I read those might do okay is partial sun.  What do I know?  I have never had a garden before.  We have a ton of trees in the back yard and our property line is full and I mean FULL of them.  So now I am worried about my tomato plants.  What else was there to do, other than get out there with my pruning sheers and start cutting back limbs?  Nothing.  So I spent the whole afternoon doing that, in 94 degree weather no less.  I did what I could with my clippers, it was quite a bit let me tell you.  I am thinking the hubby is wondering who I am?  Usually I hint and nudge until he does these things.  I admit it.  I do that.  It isn't a secret and we both know what I am up too.  However, as Greg said, all it took was actually planting the tomato plants to get me out there and just get it done.  It's true, I felt sorry for the poor things.
Now I am thinking I need a chain saw to get those bigger limbs.  I wonder if the hubby will actually let me use such a devise?  I am kinda known to be sorta clumsy.  Okay a bit more than sorta.  You get the picture.  On the other hand if I actually bought a chain saw and threatened to use it, I bet those limbs would get cut down pretty dang fast, and not by me.  :-)