Holidays
Category
OKay, so it is 9.99 Friday.  3 day auction, so get biddin'!
Not for me.  I am buried still in orders.  The sale last week was a huge success, thank you everyone!  I am working diligently at getting them all done.  I should be finished by the end of the weekend.  I hope so anyway.  However, today we have friends coming to visit,so no torching today.  Then on Friday we are headed to New Orleans to watch the fireworks on dueling barges on the Mississippi.  Should be fun.  I hope you all have fun safe plans for the weekend.  Get some rest, or party down.   We plan a little of both, then back to the torch.  Happy 4th of July everyone!
For the next seven days our website is offering a 20% off sale.  All items are included.  Just click here to get to the sale page:
http://www.chase-designs.com?code=NYSD
Have  wonderful and safe New Years eve.  Wishing you all a blessed New Year.
I just put a huge dent in my Christmas list.  That feels good.  How about you?
This year is our first year in a house in five years.  I want so much to decorate it all pretty and Christmasy.  I love Christmas decorations.  They make me smile.   However, since we have been living in the rv for so long, we got rid of all the things we use to have and we do not have it in the budget to buy new stuff this year.  We did break down and buy a fun blow up outside decoration.  It is a Charlie Brown and Snoopy movable thing.  It is fun and makes me smile. At least the outside will be festive.
I am hoping my mom will come through with a Christmas Wreath for my door, even though I didn't tell her I wanted one.  Maybe she will read this and one will show up.  hehe….nice hint huh mom? She makes really nice silk flower arrangements.
I am not complaining however.  We feel very blessed this year, and after all Christmas isn't about stuff anyway.   There is a great secret santa thread on one of my lampworking boards were lampwrokers and sending gifts to each other.  The generosity is overwhelming.   It makes me smile to read when people get a gift and how happy it made them.  The gifts are all random, so no one knows if one is coming.  A surprise in the mail box.  What can be better than that?
H ave a fantastic holiday season!
I hope you all had a fantastic Thanksgiving. Ours was quiet and nice. We have a fridge full of turkey, stuffing, and mashed potatoes. Not sure, who I thought I was cooking for, but more is always better on Thanksgiving right? We had a nice visit with Greg's mom. It's nice to spend that holiday with family.
Now we are back to work, or at least I am back to work. I apologize for lacking on keeping up with the blog. You remember the book I was writing? Was, is the operative word there. I literally burnt myself out on the writing and had to stop. Between working on beads and marbles and trying to write that much a day, my eyes we going haywire. Too much computer and too much torching. Some thing had to give, and I didn't want it to be my eye site. I very much enjoyed the writing and still plan to continue it, but not at that high pressure pace. It was too much, especially with the holidays here.
So speaking of Holidays, how is the shopping going? I haven't bought one thing or made one thing yet, but my list is coming together, so that is nice.
Speaking of marbles. I am back to making them and really am enjoying myself. Here is a poinsettia one on ebay: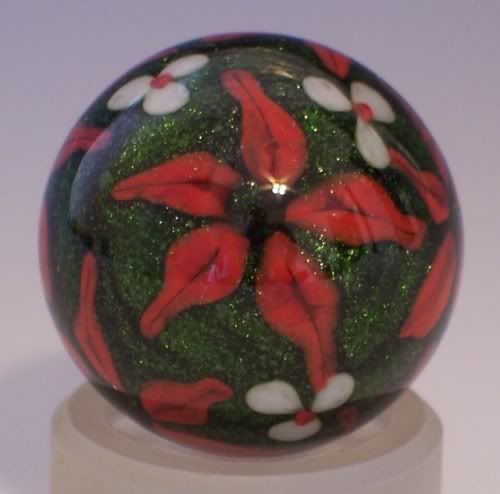 I have a ton of work to catch up on after the long weekend, so I am off to do it. Cheers!