Friends
Category
Anytime, anyone, anywhere talks about reality TV I wrinkle my nose in distaste. Gads! The Bachelor? Wife Swap? Nanny 911? Please, I'd rather be poked in the eye than forced to watch those shows. I am not a fan of American Idol, Survivor, Extreme Home Make Over (even though I think it is a wonderful premise and a very good thing), Dancing with the stars, or Big Brother. It just isn't for me. I prefer good drama or comedy shows or movies.
So recently, my friend Lisa was visiting and I proudly stated my distaste for reality tv. "I hate reality tv." Then my husband pipes in with "except for The Deadliest Catch." I look around to see him sitting in the chair, looking smug. "What?" I say. Then it dawns on me, oh ya, it is reality TV and yep, I am addicted to that show. Have you watched it? It's on The Discovery Channel.
When I was describing the show to Lisa, "It's a show about the Alaska crab fishermen." I was rewarded with a look that said to me "Uh, okay…freak." At least that is how I interpreted it. She didn't look interested. I went on to explain the horrid conditions they worked in, how freakin' cold it seemed and how fascinated I was watching them work. She was polite, nodded and I am sure said something noncommittal about it. Until I found a marathon showing of it on TV. We watched hours of TDC and Lisa became a fan, taken with Captain Sig. Told you Lisa. :-)
Okay, so since then I have realized I am more of a reality TV show junky than I thought. I am also addicted to Project Runway. This from the self proclaimed fashion victim. I missed that girly gene somewhere and couldn't give a fig about fashion. So, I never watched PR. Why would I? It all started one night after watching Top Chef (yes another reality tv show, which I love), and reruns of Project Runway come on. I was torching at the time, so no opportunity to switch the channel.
So, I listened as I torched. I quickly became fascinated with the show, and when I started pausing mid bead to see what was happening, it dawned on me, I was another victim to the reality TV craze. Add PR to my list. Luckily Bravo was running a marathon showing and I got all caught up on the season. I stayed late in the studio just to finish watching, cause no matter what I say to Greg, I am pretty sure he isn't going to watch.
So why do I like these shows? Well, Deadliest Catch has everything to do with how in awe I am, that someone would choose to go out on the Bering Sea and actually do that job. I have been to Alaska, in Sept, on a cruise. Let me tell you, it was cold then. I stayed indoors as much as possible. NO way in hell am I going to be fishing in sub zero weather with ice freezing to the boat, getting splashed with 30 foot waves. Crazy. As for Project Runway and Top Chef, I think it must be the creativity factor. When the focus is on the project, I am happy. When it is about behind the scene drama, I get irritated. Luckily both these shows tend to focus mostly on the projects and that is what is interesting.
EDIT:  did you see the link automatically generated below about Sarah Jessica Parker and her reality TV show "American Artist"?  Apparently Bravo has picked it up.  Can't wait to see what that is gonna be all about.  Artist are interesting characters to say the least.  :-)
When jewelry designers make beads and bead makers make jewelry. This weekend my friend Lisa of JoolzbyLisa came to visit. Mostly just for some R & R, but lots of girl talk and a trip into New Orleans. As part of our visit, Lisa taught me how to make a treasure bracelet. Wowza, those things take time. I must have spent at least a good eight hours working on mine. I am really pleased with how it came out though. Lisa is a good teacher. She also brought almost all of the supplies. We did make one emergency trip to Hobby Lobby for some larger seed beads and another to Walmart.  I didn't have a big enough needle.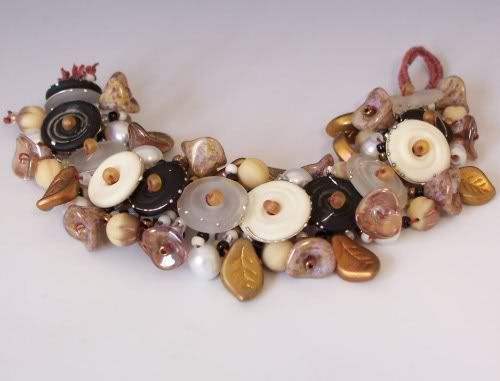 In return, I gave Lisa her second lampworking lesson. She had one last year at Bead Camp, where she made a few pairs of earring beads. So it has been over a year since she had her first lesson. This time she made a set of beads with silver. I instructed her on a technique shown to me by another friend Shawn of SetInGlass. I have already showed off Lisa's beautiful beads to my lampworking girlfriends. We all agree it's good she doesn't have her own torch, she'd be putting us to shame in no time. Ya'll will never have the opportunity to see the beads I made in my second torching session. They were U-G-L-Y, and I have long since tossed them into the abyss. Though Lisa are utterly gorgeous. Here is the proof:
I am headed off to Arizona to have some girl time with my girls and visit the largest bead show on earth, or so I am told.  This week marks the bead shows in Tuscon, AZ and I am lucky enough to be able to go visit my girlfriends for the week and take a little vacation.  I am currently sincin' up the Ipod for the plane ride as I type.  I love technology.  :-)
Anywho, while I am away, I have auctions scheduled to list and Greg will field emails for me, however shipping will not be done until I get back early next week.  No one wants Greg to try that.  Trust me, waiting is better.   We are running a sale on the website for the entire month of February.  20% off all items.  Remember, I will be out of town all week, so any orders placed will be processed next week.  Have a great week and maybe if you are in Tuscon, we'll run across each other!
How is it possible to get germs through the computer? I don't mean computer viruses or adware or anything like that. I mean real honest to goodness cold and flu like germs. I have a number of online friends who came down with colds this week. I told them to wash before they typed, but it doesn't appear to have worked. I woke up with a sinus headache, which could very well be the start of a cold. I have not seen anyone in person besides Greg since last week….accept the Post Office people. They didn't look sick! I think my online friends gifted it to me. Not on purpose of course. I really don't think they would, but I am sure it was them!
I am busy working on some orders this week. It is keeping me very busy. It's a good thing, but I haven't been able to work on my marbles. I am hoping in a coupe of days to get back to them. I have ideas running around in my head. Maybe they are the ones clogging things up in there.
I hope I don't contaminate you by you reading this. Quick, go wash your hands!
Todays topic on Flaming Hot! is preparing your beads for sale.  There is a whole process after a person makes their beads that has to be gone through before a person can sell them.  In my case, they have to be taken off the mandrels, which can be hard on the fingers and hands.  Then they have to be cleaned.  Most bead makers I know clean their beads with a diamond coated bit and a dremel.   This is what we do too.  The next step if it is a set, is to string them up some how.   I string my sets up on craft wire and space them out with seed beads.  Then they have to be photographed, as we sell online pretty much exclusively.
Out of all of those steps, I only string up my beads on the wire.  Greg almost always does the rest of it.   He even dips my mandrels, so they are ready for me when I want to work.  This is quite funny, since he rarely makes beads. He does not need a mandrel to make  a marble.  So if it is a set, I do, do something to prepare it for sale.  If it is a marble or a focal, I wait for Greg to do what he does.
So, I guess what they say is right.  I am spoiled.