Food
Category
I hope you all had a wonderful 4th of July.  We had a very nice time visiting with friends who were vacationing in New Orleans.  We went down and had dinner with our friends at Muriels.  Greg and I had eaten there once before.  I remember being pretty impressed with my blackened tuna, but Greg didn't remember it as much.  So it was a bit of a surprise when we all ordered something different and all decided we had ordered the best thing on the menu.  We ate entirely too much, drank too much, and then they all had dessert with out me.  (Stupid migraines.)  It was very very yummy!
Then we watched the fireworks on the Mississippi.  The city has dueling barges, so we got to see in sinc, or almost in sinc exploding fireworks.  It was cool, accept it only lasted 12 minutes.  I think I would have preferred only one barge and a longer show.  Twelve minutes hardly seemed worth it.  Though we did get to visit with good friends, so it was all good…until we wanted to leave the parking garage!  Yikes!
We were on the 6th floor and it didn't look good, (backed up at least two more levels) so we went to a bar and sat around drinking bottled water.  How cool are we?  Hey Greg had already had his share of hurricanes for the evening and I am a non drinker these days.  (Sucky stupid migraines.)  Anyway, we people watched until midnight, finally braved the parking garage and made it home about 2am.  The fireworks ended at 9:12 pm.  So the verdict is in.  It isn't on the list of things to do next fourth of July.  But back to Muriels we will go.  Did I mention yum?
More on Blueberries!  I swear this isn't a blog entirely devoted to blueberries, at least not usually.  I just wanted to share my breakfast treat.  Vanilla, honey flavored yogurt with fresh blueberries.
Recipe:
Plain yogurt about 1 1/2 cups
1 tsp honey
1/2 tsp vanilla
Fresh blueberries.
It is dang good.  My measurements are approximate, as I just sweeten to taste and add however many blueberries you want. Am I healthy this morning or what?
Look at me! I am a baker. I bet some of you are surprised. I am learning all kinds of new skills, in the kitchen that is. Here are my fresh blueberry scones, made with honey instead of sugar.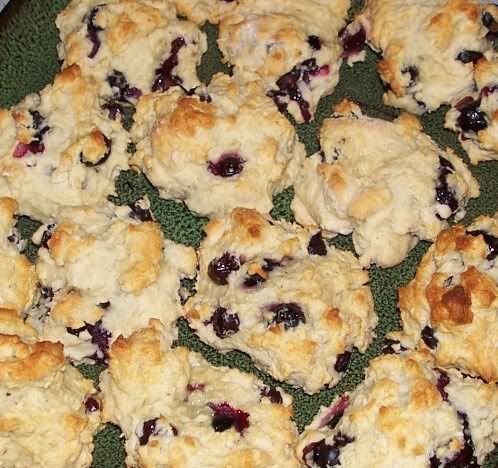 Recipe:
Preheat oven to 400 degrees
3 cups bisquick
2 tbsp honey
1 cup fresh or frozen blueberries (I used fresh)
1/4 cup milk
2 eggs
In medium bowl add eggs, milk, and honey. Beat together with a fork. Add blueberries. Fold in bisquick. Spoon onto an ungreased cookie sheet. Drizzle a tiny amount of honey on each one. Then bake for 10 to 12 minutes, or until golden.
On Saturday we went to get smoothies at our local smoothie bar (which we didn't get cause they were out of blueberries). On the door was as sign for a U pick blueberry place, that is a few miles from our home (If you have been reading, I do have my own bushes, but they are just babies and not producing much yet). So Off we went. $7 for a gallon. We got two. So I made scones and froze a bunch of them. I think I will make Greg a pie today. Now off to exercise those extra pounds I am inviting.
You just know it is gonna be a good day when you get up and the first thing you do is harvest fresh blueberries right off the bush in your front yard. It's not a huge harvest, but enough to start me off on the right foot (and my parrot, who insisted on having one of her own).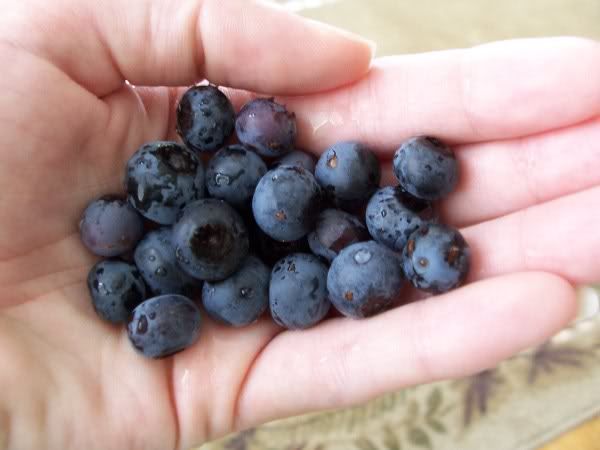 Combine that with the fact it is technically my day off and as soon as I go to the post office I am free until Sunday. Then add in the rock music blaring in my office and I am good to go. What will I do next? Trim my lantana bushes? Read the book I started two days ago (see I am being a responsible reader)? Write more of my great American novel? I'm not sure, but they all sound good to me. Have a fabulous weekend. I plan too.
Hello! I am back from having internet issues. So let me take care of a bit of business. First off here is my 99 cent Friday and Tuesday specials on ebay this week. I have been pleased with the 99 cent promotion, so I am continuing it through April. Every Tuesday and Friday I will list a 99 cent auction, be sure to check back.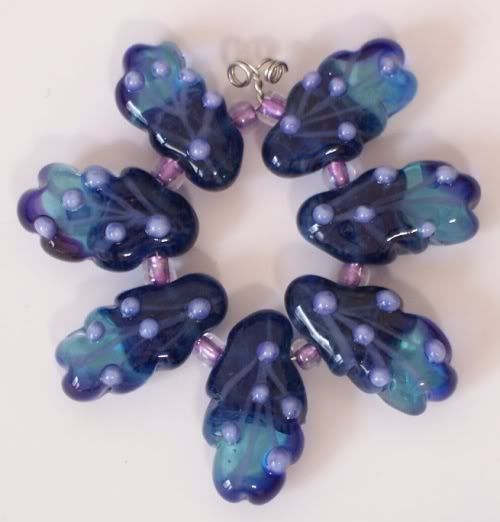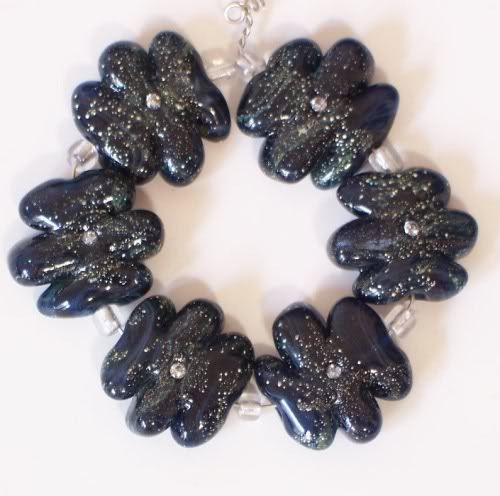 Now that we are done with that, I would like to point your attention to an Etsy sale I am a part of. I have joined a new group "LEST". It is a group solely dedicated to promoting handmade lampwork beads on Etsy. As a kick off, the group is offering 10 to 20% off select items from April 1st to the 7th. Click HERE to see my 20% offerings and HERE to see the whole groups offerings. As of right now there are over 700 hundred items being offered for ON SALE by the group. Now what does LEST mean? Simply it is Lampwork Etcetera Street Team. We all belong to the forum lampworketc and we formed an Etsy street team. From that we get LEST.
As for what I am up too, well the internet just stopped working on my work computer, although it worked on the laptop we have, so I spent a grand total of over 10 hours on the phone with service techs rebooting, restoring, turning off and on, resetting settings and ended up doing a system restore on my computer, losing all my programs and a few things I forgot to save. What a PITA. The worst part is the system recovery did nothing. It just started working again Sunday afternoon., We have no idea if it was one of the setting we changed or what. Computers are just a mystery to me.
We did have a grand time on Saturday evening when we celebrated our 12th wedding anniversary. We spent the evening eating a fabulous meal down in New Orleans and then bar hopping and people watching on Bourbon street. That place is such a great study in human behavior. There was lots of flashing going on, even though it is not Mardi Gras season (though not by me). :-) It was the tail end of spring break and there were lots of college aged kids, although there is always a huge mix of people. I mean really, there were ladies in their 60's at least, wondering the streets around 1am with lots of beads…we found ourselves wondering if they flashed for those and then decided we didn't really want to know.