dogs
Category
Mondays are always super busy and for that reason alone, I usually find myself with the dreaded Monday blues. So, over the weekend I decided I'd have Mondays be Favorite Things day on the blog. You know. A place to talk about things that make me warm and fuzzy or squeal with glee.
Of course, I found myself swamped yesterday with stuff and I didn't get the post written. (Please. I'm not organized enough to do my posts in advance and that would defeat the purpose of Favorite Things Monday anyway. The whole point is to take  a few moments to focus on something that makes me smile). Obviously I failed at my first cheerful Monday post.
That means I have two things for Tuesday. Or three really.
First up: My boys. Little balls of energy and kisses.
Someone should really gives these scrubs a haircut.
Next up. The finished manuscript. My editor sent the word file back while I was at Bead and Button. Last night I finished my edits and revisions. I'll be doing one more read through, then it's off for a final copy edit on the changes I made. Holy Crap. Almost there!
A  little video of the fur kids.  One wants to play the other…not so much. :)
"Get away from me kid, you bother me."
"But I luuuv you."
It's kind of been a while since I updated ya'll on what I'm up to.  Mostly I've just been torching away.  My friend told me I needed to start making more marbles and since I am easily influenced, that is what I have been up to.  Here is a collection of recent ones I've made:
Some are on ebay, and some are on etsy and  few of them are sold already.
And here is the big news.  We adopted a new puppy!  He is a Maltizu.  Half Shih Tsu and half Maltese.  We've named him Duncan Donut and he really is that sweet.
Here he is loving on our sweet Golden Retriever.
Don't forget, today is the last day for 20% off in my ETSY store and WEBSITE!  Wholesale pricing with no minimum purchases.
Okay now that I have that our of the way, on to more fun stuff.
I have a title for my book:  Dead Sexy.
and a little sampling:
"So, you are saying Mrs. Keltons dead Golden Retriever, followed you home?"  Kat asked.   I watched while she pulled left over potato salad out of the refrigerator and dished it into two bowls. Handing me one, she cocked an eyebrow.
"Not exactly." I said, eyeing Duke, the ghost dog, staking out a place on the couch.
"Not exactly?  So what, you dog napped him?"  The incredulous look on her face suggested she thought  I was joking.
"No, he jumped in the car and I drove him here.  He followed us up the stairs," I said.
"Are you even allowed pets?" she asked, laughing.
"Oh haha…very funny." Frowning, I grabbed a beer and slammed the fridge door.
"Oh come on, it was  a little funny," she said.  "Do I get one of those?"  She tilted her head toward my Guinness.
I shrugged and  stepped out onto my balcony.
Jade, Dead Sexy (c) 2008
So last week was my birthday. Happy Birthday to me! The morning of my birthday, I woke up to this running toward me: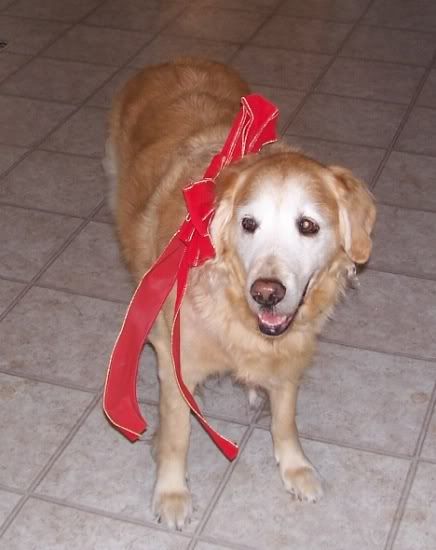 My pooch was my birthday gift from my hubby ten years ago. We always joke that every year she is my birthday gift, because she is the gift that keeps on giving. This is the first year she actually got a big red bow. She was pretty pleased with herself it seemed also. Of course anytime I am smiling at her and telling her how cute she is, she is pleased.
So even though the car broke down on our way to my birthday lunch, and then I got a migraine the next day when Greg tried to make it up for me, all in all it was good birthday. How could it not be, with such a sweet present? Here are some more of my favorite pics of my big red bow dog.