Daily Life
Category
Hey, someone just pointed out to me that it is indeed Friday the 13th.  I wonder what kind of weird party is going on down in The French Quarter.  I am certain there is something, there always is.  Like the end of the prohibition party, or the 4/20 party, or just about anything anyone can come up with as an excuse to party down.  :-)
Happy Friday the 13th.  Stay clear of Jason.
More on Blueberries!  I swear this isn't a blog entirely devoted to blueberries, at least not usually.  I just wanted to share my breakfast treat.  Vanilla, honey flavored yogurt with fresh blueberries.
Recipe:
Plain yogurt about 1 1/2 cups
1 tsp honey
1/2 tsp vanilla
Fresh blueberries.
It is dang good.  My measurements are approximate, as I just sweeten to taste and add however many blueberries you want. Am I healthy this morning or what?
Look at me! I am a baker. I bet some of you are surprised. I am learning all kinds of new skills, in the kitchen that is. Here are my fresh blueberry scones, made with honey instead of sugar.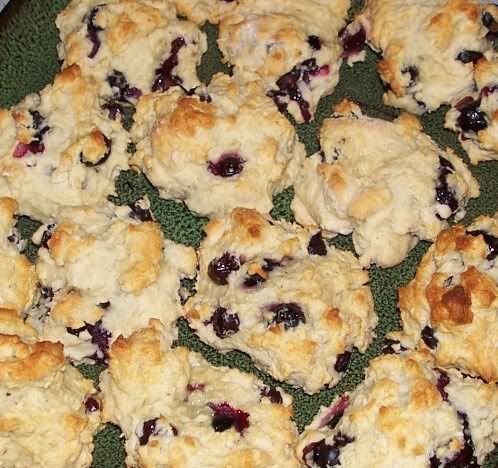 Recipe:
Preheat oven to 400 degrees
3 cups bisquick
2 tbsp honey
1 cup fresh or frozen blueberries (I used fresh)
1/4 cup milk
2 eggs
In medium bowl add eggs, milk, and honey. Beat together with a fork. Add blueberries. Fold in bisquick. Spoon onto an ungreased cookie sheet. Drizzle a tiny amount of honey on each one. Then bake for 10 to 12 minutes, or until golden.
On Saturday we went to get smoothies at our local smoothie bar (which we didn't get cause they were out of blueberries). On the door was as sign for a U pick blueberry place, that is a few miles from our home (If you have been reading, I do have my own bushes, but they are just babies and not producing much yet). So Off we went. $7 for a gallon. We got two. So I made scones and froze a bunch of them. I think I will make Greg a pie today. Now off to exercise those extra pounds I am inviting.
You just know it is gonna be a good day when you get up and the first thing you do is harvest fresh blueberries right off the bush in your front yard. It's not a huge harvest, but enough to start me off on the right foot (and my parrot, who insisted on having one of her own).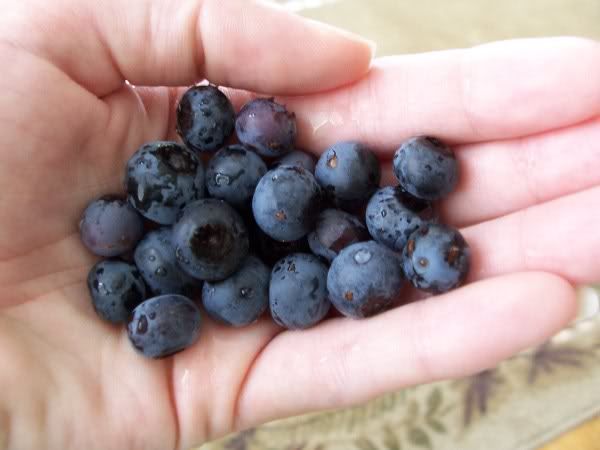 Combine that with the fact it is technically my day off and as soon as I go to the post office I am free until Sunday. Then add in the rock music blaring in my office and I am good to go. What will I do next? Trim my lantana bushes? Read the book I started two days ago (see I am being a responsible reader)? Write more of my great American novel? I'm not sure, but they all sound good to me. Have a fabulous weekend. I plan too.
Isn't this fun? One of the other blogs I visit posted about a front porch party. See it HERE. The blog Rose Colored Glasses lists over 70 participants in the Front Porch Party. Click on it to visit other bloggers porches or dream porches. If you have a thing for porches like I do, it may take a while. Enjoy!.
Here is my front porch in the making. We have lots of plans for it, but so far haven't gotten to any of them: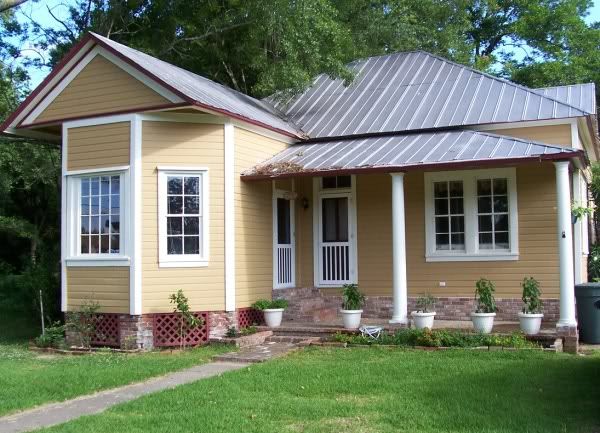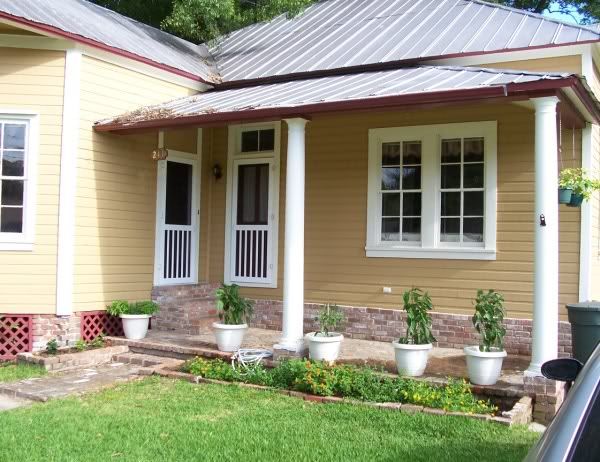 The potted plant closest to the house on the left is my herb pot. The other four are our pepper plants. We have a cowbell and red, yellow, and purple bell peppers. The bouganvillas hanging off to the right, usually hang in the front of the house, but they were not getting enough sun right now do to the sun being so high in the sky, so they were moved, for now.
We plan to build a wood porch and bring it up to the actual front door. Those brick steps are really high, which isn't a problem for us, being tall people, but anyone with aches or pains might have difficulty with them. Anyway the porch was on the schedule for this spring but didn't make it. Maybe in the fall. It's way too hot now. Also there are hooks for a porch swing. I can't wait for that. :-)
And just for fun: My sunflower patch.