Beads
Category
So I guess it isn't a secret I've been crazy busy. My poor blog. I haven't written a Business of Lampworking article in a few weeks. I haven't posted Book recommendation Thursday is over a month. And my online participation has been noticeably lacking in my favorite haunts.
You see, this upcoming weekend is Bead Fest Texas. I leave Thursday and will be back Monday. Speaking of Bead Fest, if you're anywhere near the Dallas/Arlington area, here is a coupon you can print to get in free. I will be in booth 611.
Anyway, I had a show in Philly at the end of August, and Hottimes on the Mountain at the end of Sept. The combined events severely depleted my bead show stock. So the last four weeks I have been scrambling to catch up.
In addition I've been working feverishly on Witches of Bourbon Street, the second in my Jade Calhoun trilogy.
So you can imagine how excited I am to have some girlfriend time. My good friend, Susan Sheehan is arriving today in  about three hours now. We're picking her up from the New Orleans airport, taking her out on the town, and then spending the next few days playing in the studio before we drive on out of here for the show. Susan will be in both 609 right next to me, and our other dear friend Lisa Liddy will be in booth 607 right next to Susan. It's gonna be a great show!
The International Society of Glass Beadmakers (ISGB) hosts a booth at The Buyers Market of American Craft (BMAC) every year in February. BMAC is the show gallery owners shop at to fill their stores. Members of the ISGB have the opportunity to participate in the show at a reduced rate. It's a great opportunity for artists to get a feel for the show without a huge financial risk.
But how does an artist balance online sales with gallery sales? Many people will say galleries will not deal with artists who sell online. My question is as a modern artist: How can you not sell online and expect to be successful? The trick is to respect your wholesale accounts.
By this I mean: Do not undercut galleries by selling to the general public below your retail price. Your retail price is usually double your wholesale price. That means you should not list a piece on Etsy for one-hundred-dollars and expect to sell the same piece to a gallery for one-hundred-dollars as well. The gallery must mark your products up to earn a profit. If they can't, why would they buy from you? And why would anybody buy a piece from a gallery for two-hundred-dollars when they can order it direct from the artist for half the price? Or worse, the person buys from the gallery, goes home and Googles the artist's name and finds out they've overpaid. That gallery just lost a customer. Bad business.
So if you want to sell to galleries and maintain a working relationship, respect them and their need to turn a profit.
Also consider making pieces specifically targeted for galleries. These are pieces you do not offer online and are exclusive for wholesale accounts. That way there isn't any danger of undercutting and the gallery can then charge whatever they want for the piece. The rule of thumb is wholesale is fifty percent of your retail price, but galleries sometimes mark things up two to two and a half times. If you're selling it at double your wholesale, you are still undercutting them and they may choose not to do business with you.
I've already mentioned the BMAC show which is one way of introducing your work to galleries. Another is Wholesalecrafts.com. They are an online gallery exclusive to wholesale venders. Consider putting together a brochure and mailing it to the galleries you are interested in.
For local galleries call to set up appointments to meet with the gallery owners/buyers. Do not just show up with your work in your hands. Often the buyer won't be in, plus you need to respect their time. Also they could feel put on the spot and that isn't a great way to start a business relationship.
Be prepared. Know your wholesale terms. What dollar amount does the gallery have to meet in order to qualify for wholesale? Do they have to meet it again each time the order, or can they reorder less at wholesale rates after the relationship is established? Will you accept net-thirty payment terms? Does the gallery have to pay upfront? Are you willing to offer pieces on consignment? If so, have a boiler plate contract ready to go. Does the gallery pay you if items get lost, stolen or broken? What is the consignment rate? fifty-fifty? Sixty-forty?
The more professional you are, the more likely they are to take you seriously. We artists can be flaky. You don't want to give them a reason to say no.
With all this said, I confess, Greg and I don't sell much work through galleries. We have done some in the past and may in the future. But currently, I just have too much on my plate with online sales, shows, wholesale bead and murrine accounts, and the books I"m writing. Adding wholesale gallery accounts and doing it right is just one too many things right now. It's important to know your limits.
Good luck!
It's been over a week since I posted. Most of that is because I was out of town last weekend at Hottime on the Mountain in Asheville, NC. I was fortunate enough to be asked to demo one of my murrine ring beads.
I made one like this but added butterflies. It went pretty well, despite using a smaller torch than I am used to (which is pretty much always the case in these settings and is totally fine). It just means the poor attendees had to spend a lot of time watching me wait for glass to melt.
However, on Sunday morning many of them showed me their class beads and everyone did super awesome. I know what it feels like to be scared of using murrine. Greg (the hubby) is a master and it still took me years to get comfortable with trying. It's really not that hard, I promise.
Anyway, I came home with a pretty nasty head and chest cold. This is what happens when one doesn't have kids and rarely spends a bunch of time with the general public. Our immune systems just aren't up to fight off the latest germ de jour. Hopefully I don't infect Greg. Two of us sick just won't do. Especially since I'm feeling pretty pathetic right now.
One bright spot in my day however is a five heart review I just found on Sizzling Hot Book Reviews of Haunted on Bourbon Street. It's the first book blogger review I'm aware of and I couldn't be more thrilled.
"Haunted on Bourbon Street
 is a wonderful debut novel for Deanna K Chase with a well developed plot, strong characters and a multi-faceted story line with twists and turns to keep you thinking.Haunted on Bourbon Street
  is sultry and sexy with just enough tension to want the reader to scream, yet enough details to leave the reader satisfied that they aren't guessing what's going on. I have to say, pick up Haunted on Bourbon Street
and just enjoy it for the paranormal mystery romance that it is."
Yay for a pick me up!
Confession time. I'm a bead maker who rarely wears jewelry. I'm usually at home writing or in the studio making beads. It isn't an existence that lends itself to getting dressed up. Or getting dressed at all for that matter. I could spend all day in my jammies and no one would know.
So when it comes time to actually go somewhere, I almost always forget to add a piece of jewelry. Sure, I have pieces. I display them at shows, pull them out for my bead events, but on a daily basis? I often have to dig around in my purse for a bead to show a stranger what it is I do when the subject comes up.
But now I think that is all about to change. I have a customer, Laura of Simply Adorning, who does the most amazing things with my beads. Man-o-man does she make them look awesome! I never knew my beads could look so good.
This peacock pendant was the first piece I got from Laura. She made one and sent me a picture. I knew right them I had to have one.
Then I saw this in her store! I'm a bit of a sucker for a ring, but when I saw my floral bead set in there…wow, just wow. I love this ring.
But this is the piece I adore. Simply adorning indeed. Just gorgeous. How could I resist wearing this at every opportunity?
You can find variations of each of these pieces in Laura's Etsy store.
It's Bead So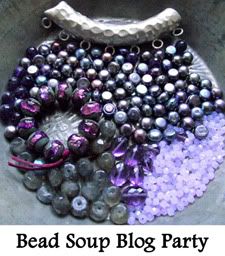 up time. The lovely Lori Anderson is the coordinator of the Bead Soup party. Click here to find a list of all the participating blogs.
Basically it works like this: All participating artists are matched up with another artist and we send a focal, a clasp and some coordinating beads off to our partners. Then we each make a piece of jewelry and blog about it on party day.
Today is party day! My partner, B.R. Kuhlman (be sure to stop by her blog to see what I sent her and what she did with my beads), sent me this jam-packed box of goodies:
The package included an amethyst focal, dyed mother of pearl, ear wires, lilac stone, amethyst beads, seed beads, crystals, and a silver plate clasp. There were a lot of goodies in my package. I admit to being a little overwhelmed with what to do with it all, but she sure left me with a lot of choices.
So without further ado, here is what I created. It's a little out of my norm, since there isn't any lampwork in it at all. I thought about adding some, but she gave me so much to work with, I wanted to devote this piece to just her beads.
Since my tastes run more simplistic, I do have a lot of stuff I didn't end up using, but it's not like they won't find their way into other things.
BR did the gorgeous wire-wrapping on the pendant, and I put everything else together.
So you tell me. How did I do?