Beads
Category
Hey Everyone!
A number of you have asked for it, and I honestly didn't know when we were going to run our next sale. It seems appropriate now that the dreaded tax day is upon us that we should have a tax relief sale.
So to help you out (and us too) here it is:
20% off all beads in the Etsy store. www.cdlampwork.etsy.com
35% off all murrine in the Etsy store www.chasedesigns.etsy.com and on the website www.chase-designs.com
Prices are already marked on all three sites. Sale ends Friday 13th at midnight CST.
Happy Shopping!
Deanna and Greg
Once you start selling your lampwork, you will run into the discount question eventually. It can come in many forms: Do you offer quantity discounts? Wholesale discounts (If you do shows, make sure you have this answer handy. You'll need it)?  I've spent a lot over the course of the year, do you ever offer discounts? I've seen this item in your store for a while now. Would you consider selling it at X price? If I buy ten of these will you give me a discount?
Let me just say right now, I have no problem with people asking for a discount. I don't get offended, hurt, or indignant. Many times I have seen artists get riled up when someone sends them a message offering less than the asking price or asking for a discount. But honestly, who doesn't like a deal? And keep in mind when you sell online, the market is worldwide. That's right worldwide.
Many cultures thrive on haggling and the "let's make a deal" method of buying goods. It's a normal every day thing for them. Other folks are just trying to find the best deal. No harm in that.
Some of the arguments I've heard from my colleagues include: But we're selling art! It's a piece of ourselves! How dare someone ask me to sell it for less? If I wanted to sell it for $10, I would have put a $10 price tag on it!
We Americans can be so touchy. *grin*
Once you start selling your lampwork, you're in business. Period. Expect to get questions about discounts. It comes with the territory. Try to take emotion out of it and think with your business hat. (Yes, I know, we artists hate the business end).
Okay, so how do you handle it? Do you have a discount or wholesale policy? If not, make one and stick to it. Do not deviate from customer to customer unless you have meticulous record keeping skills.
Example: early on in my lampworking business days,  I had a regular customer who bought at least once a month. I valued her tremendously and one day she asked for a discount. I said sure. I'm pretty sure I said something like, you've ordered so much, each time you order from now on I'll give you 20% off. That was all fine and dandy, until she stopped ordering as frequently. She was a designer and designers move on to new things and new designs. That's okay.
But as you might guess, I got busy with other customers and pretty much forgot all about the 20% discount. Then the customer came back to me months (maybe even a year) later and ordered stuff, and of course by then I'd forgotten all about the discount. When she reminded me, I gave her the discount, but yeah, I admit I was a little resentful I had to give a 20% discount on a small order (less than $30). And it was my own fault. I didn't set terms. I didn't really have a policy. I was making it up as I went along.
So I made one. A set policy I can refer back to when I get the discount questions:
Designers: 30% off a set amount.
Bead Stores: 50% off a set amount.
And that is it. The amounts vary depending on if we're talking about beads, marbles ,or murrine. But they are always the same. So when someone asks about discounts, I have a pat answer. There isn't emotion involved.
Do you offer wholesale pricing?
Yes, my terms are…
Do you ever offer discounts?
Yes, my terms are…
I also run a few sales throughout the year, usually up to 25% off. To be notified of future sales, sign up for my newsletter here.
I've spent a lot of money with you over the course of the year. Do you offer discounts?
This one gets a little trickier, because they might be thinking they've already spent a lot, they deserve the discount on a small order. I always answer that an order has to meet xxx to reach wholesale levels. Sales are not accumulative. I also again refer them to the newsletter for future sales.
If I buy ten of these will you offer a discount?
See designer wholesale terms.
I've seen this in your store, will you sell it for X amount?
This one I am flexible on. It really depends on the item. Have I had it forever and do I want it gone? Am I just in a good mood? Or do I love the piece and am not willing to discount it? Sometimes I'll deal, and sometimes I won't. Just be firm (but friendly) and if you do deal, be prepared for them to try it again. That doesn't mean you have to deal again, it just means don't be surprised when they ask again. Trust me, they will.
As I said earlier if you do go with different discounts for different customers be sure to keep good records. I guarantee after enough time goes by, you'll forget. We have different ones for designers, beads stores, galleries, and suppliers (for murrine).  On my website I have a place for customers to sign up for wholesale. I keep all the discounts in there for easy reference. All I have to do is look up their name and there it is. (Their wholesale terms are only visible to me on the back end of the website.)
If you don't offer discounts of any kind, that's fine too. My response to all of the questions above would be: Sorry, I don't discount my work. Thank you for stopping by.
Short, to the point and respectful. Remember, you're in business now.
Hello!
Happy Thanksgiving to those in the US. Happy holidays to everyone else. Greg and I are spending a quiet Thanksgiving together with our giant twenty pound turkey. Yep, twenty pounds for two people. We love leftovers.  While I'm slaving over a fancy Thanksgiving dinner for two, we are running a sale!
This is our annual Giving Thanks sale. Sale starts at midnight Thursday morning and runs for 48 hours, ending Friday night at midnight (11/26/11 @ 12:00am).
All murrine 50% off
All beads 25% off
Happy shopping!
Thank you so much for all your wonderful support. We couldn't do this without you.
Deanna and Greg Chase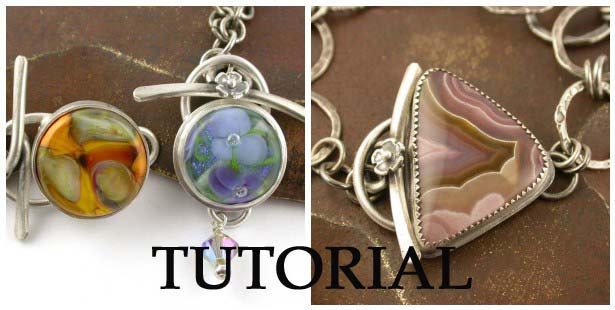 The wonderful Laura Pacino of Simply Adorning has a brand new tutorial out. It's labeled  Beginning Metals Fabrication-Bezeled Toggle Clasp.  I had the opportunity to preview this ebook and let me just say it's wonderful.
I've had very little experience with metal fabrication. I took a class six years ago, but due to time restraints I never made anything other than some disks at a friends house, which means I barely remember anything. Oh, I vaguely recall filing and sawing and pickling, but if I were to sit down and try to make something, disaster would ensue. But I didn't have any trouble following along with this tutorial. Laura even gives you part numbers for tools and materials so it's easy to find the items she is talking about. I love that! Especially since I am such a noob.
The tutorial is how to set a stone, but she also discuses tips and tricks for glass beads. See the picture on the left? The bead on the right is one of mine. Doesn't it look gorgeous? Laura makes everything look awesome.
Anyway, the tutorial is clear, the pictures are awesome, and since part numbers are listed, tools and supplies are easy to find. I'd say it's well worth the $25 price tag. Check it out!
Hey guys! Bet you thought I forgot all about you didn't you? Nope. I've just been busy writing Witches of Bourbon Street, but I'm taking a break to give you the skinny on Bead Fest Texas.
This was the second year Bead Fest was held in Arlington, and my first year doing this particular show. In comparison to Bead Fest Philly it was much smaller. I'd say about a third of forth the amount of vendors as Philly.
The good:
It's pretty close to me. It took eight hours to drive each way. Going I had my friend Susan Sheehan with me, so it seemed much shorter, especially since she drove most of the way. Our other friend Lisa Liddy was a vendor there, so for us it was kind of a girls weekend in addition to working the show.
The show was low cost (relative to the other ones I do).
I had a great day sales wise on Friday. (It's a three day show). Easily my best one day total in a very long time. I had high hopes after Friday, let me tell you.
There were quite a few less vendors than I'm used to, so less competition which is always nice.
The bad:
We had to pay five dollars a day parking.
I had an artist's table, which means one eight foot table (pretty standard). But all the artists tables were butted up against each other. I'd say there were twelve to fifteen tables all lined up with no room to get to the other side of the table. We had to trek all the way down to the end to get around to the other side. It wasn't very convenient.
Perhaps the most unfortunate issue was the show was the same weekend as the World Series. The ballpark was literally right next door. The Rangers and Cardinals played both Saturday and Sunday night. To add insult to injury the Cowboys football games was Sunday at 3 pm.  Needless to say, Sunday was a snooze fest. I'm sure we lost many possible shoppers who were afraid of crowds and issues with parking. Luckily for those who did come out there was designated Bead Fest parking. However, if one didn't brave it, they wouldn't know that.
The good news is I made more than my formula on Friday, so the show was certainly successful for me. I'll definitely be back next year.
Formula:
Table fee + electricity + travel fee + $100 a day I'm out of my studio (traveling, packing, manning my booth) = Amount  I have to make to consider the show successful.
Next show: Houston Bead Society November, 11, 12, 13. Only Greg is handling this one. I have a book to finish.