Art
Category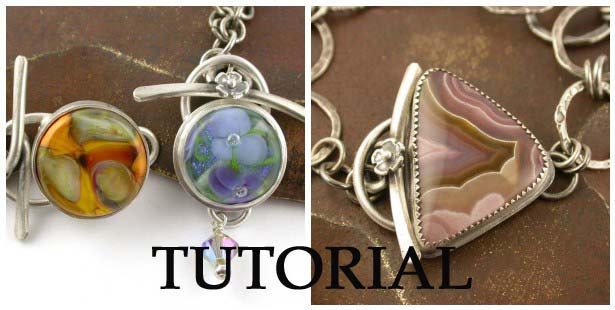 The wonderful Laura Pacino of Simply Adorning has a brand new tutorial out. It's labeled  Beginning Metals Fabrication-Bezeled Toggle Clasp.  I had the opportunity to preview this ebook and let me just say it's wonderful.
I've had very little experience with metal fabrication. I took a class six years ago, but due to time restraints I never made anything other than some disks at a friends house, which means I barely remember anything. Oh, I vaguely recall filing and sawing and pickling, but if I were to sit down and try to make something, disaster would ensue. But I didn't have any trouble following along with this tutorial. Laura even gives you part numbers for tools and materials so it's easy to find the items she is talking about. I love that! Especially since I am such a noob.
The tutorial is how to set a stone, but she also discuses tips and tricks for glass beads. See the picture on the left? The bead on the right is one of mine. Doesn't it look gorgeous? Laura makes everything look awesome.
Anyway, the tutorial is clear, the pictures are awesome, and since part numbers are listed, tools and supplies are easy to find. I'd say it's well worth the $25 price tag. Check it out!
A couple of my bead (I originally typed bed here instead of bead.  Really changes the context don't you think?) buddies are offering some fun deals and subscriptions.  I'd like to take this opportunity to point you in their direction.
First up is The Random over at JC Herrell Glass.
A blurb from her website
"Back in Michigan, a friend of mine visits a local deli every morning and orders a "Random".  A little while later he is served a random meal from the breakfast menu.  It's like he gets a yummy surprise every day.  And so for a while now I've been thinking about offering a "Random" on my website because it'll fun for both of us (and I'll make it a pretty sweet deal for you).  Purchase a $10 Random and receive a bead or set of beads that retails for $20-$35 or even more.  Purchase a $25 Random and receive a bead or bead set worth $40-75."
I think this is an awesome idea!  And you can't really go wrong, since all of JC's beads are TDF!  So head on over and order yourself up a random.
Second up is a monthly earring subscription from Melanie Hazen.
She has a four month subscription and a twelve month subscription. Her prices make these a fantastic deal.  Let me tell you, her jewelry is just gorgeous!  I know. I had the opportunity to see it in person this month and more than one piece came home with me!  I came home with something very similar to this. YUM!
Head on over to check out both of my friends and while you are there, order yourself up a suprise.
My dear hubby Greg has many talents (only some of which I can discuss here…I kid, I kid!).  Long ago he used to work with wood, making kaleidoscopes, pens, and even turned bowls.  Now he is putting our shed to use making lighted marble stands.  He's using hardwoods, maple and walnut. But he did pick up some exotics at the hardwood shop this week, so there will be more variety to come.
A few are on ebay now.
This all started last month when we were trying to figure out how we would display a few marbles at the ISGB Gathering next month.  Greg came across some lighted displays and picked them up.  This led to him making marbles that will glow when being lit up.  See the above picture.  And of course he wasn't happy with the ready-made light stands he bought, so he ended up making his own.   We both love them and are pretty sure we will be offering hardwood marbles stands  regularly.
I hope you love them as much as we do!
The big After Taxes Sale is on in all of our selling venues.  Everything is at least 20% off and either at or below wholesale pricing.  This is as low as it gets folks.
Website (discount is taken at time of checkout.  Be sure you click this link to get to the discount page.)
Artfire (Prices already marked)
Beads on Etsy (Prices already marked)
Marbles on Etsy. (Prices already marked)
Sale ends sometime on Wed April 22nd when I get around to changing the prices back.
Happy Shopping!
It's been a good while since I played with  making dragons, so this week I let myself just make dragons the whole day.  They can be time consuming and my back always aches after I am done, but I love them so!  Enjoy.